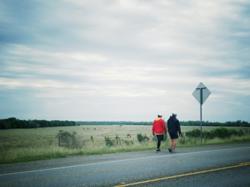 The walk symbolizes transformation. It takes leaders who are dedicated to do hard work for an extended time in order to accomplish the goal of transformation. There's more to be done and it all leads up to the starting line of transformation- James Massa
Clifton, VA (PRWEB) April 23, 2013
HiViz LED Lighting, Sustainable Essentials Enterprises and several others companies for which Loom Enterprises founder and former Cisco Systems Executive, James Christopher Massa, provides executive services and consulting are pleased to welcome Massa back from his participation in the first 1,000 miles of the Equip Leadership World Relay.
"I had to check a calendar on the flight back to determine just how much time I had invested. I have walked 27 days since March 11th when I first joined the Equip World Relay team and also had 4 days of travel getting to and from the places where the relay teams were located. That's an entire 31 day month dedicated to this walk and to transformation," reports Massa. "It's a relay format where every day 22 miles is walked by a team of walkers. I personally averaged about 14 or 15 miles a day."
Massa walked the entire route from Montgomery, AL to Mobile, AL. He then rejoined the group in Opelousas, LA after a short break to fulfill a previously scheduled family commitment with his son. From there he walked through the heart of Cajun country in Louisiana, on into Texas, through and past Houston, and onward to approximately 35 miles past the city of Victoria, TX where he and the group celebrated the completion of their 1,000th mile. When the math is done, so far Massa has walked 400 miles.
"Yes, it was quite a commitment and it's not done yet," says Massa in regards to the time and distance he has invested into this walk. "I believe this walk is important because the walk symbolizes the elements of transformation. It takes leaders who are dedicated to do hard work for an extended time in order to accomplish the goal of transformation. There's more walking to be done and it all leads up to the starting line of transformation, not the finish line."
"James was a great addition to the walk in so many ways. We were blessed to have him along," Says John Hull, President of Equip Leadership. "Massa, is not only a strong walker, he is a truly positive force that was a great encouragement to me and others along the way."
Massa's consulting company, Loom Enterprises, provides management consulting services to help companies and organizations build "Relationships that Transform." Massa first became involved in Guatemala in 2003 and has worked with many of the same organizations that Equip Leadership, and The John Maxwell Company began to work with later in the decade and recently in 2012 in regards to the its Leadership Transformation initiatives and the Equip World Relay. John Hull explains, "Massa was planting seeds from which we are harvesting even today. He is highly regarded and respected by the leaders in Guatemala."
Equip Leadership is a non-profit global leadership development organization founded in 1996 by leadership author and speaker John Maxwell. Equip Leadership is intended to develop effective international Christian leaders in all areas of culture throughout a society. John Hull continues regarding Massa, "As we walked and talked, James' intelligence and global experience poured forth in entertaining stories and information." Hull adds, "He is a leader, a communicator and a teacher. Yet he comes across as a humble man with a sense of humor who demonstrates what pastors like me would call a 'broken spirit', which is a positive this for servant leadership. I am sad to see him depart at this time and look forward to his rejoining us."
"After this walk, I'm sure John Hull and I could start a mutual admiration society," Massa chuckles, then adds about Hull. "John is a strong leader who has vision and the courage to go forward when all the details are not yet worked out." Massa continues, "I learned in a conversation with then Secretary of State Colin Powell that when he made decisions as the Chairman of the Joint Chiefs, that often he went forward with only 40% to 70% of the information he desired to have. He did this simply to gain a competitive edge on the battlefield. Through Equip, which was founded by John Maxwell, John demonstrates the type of assertive decision making described by Powell in his battles and efforts to advance leadership worldwide."
John Hull, president of Equip announced in late 2012 his intention to walk from the location of the future John Maxwell Leadership Center in Duluth, Georgia, to Guatemala. The walk consists of nearly 2400 miles achieved by walking on average of 22 miles a day for over 100 days. It was formed to challenge and motivate the more than 6 million leaders in 177 countries around the world taught over the last 15 years by Equip Leadership to ignite a movement for profound change in each leader's sphere of influence. Initially scheduled to begin in January 2013, the walk was delayed until March 4, 2013 so as to allow for broader participation by leaders around the world. Having drawn participation from leaders as far away as Austria and the Philippines, the "March forth" beginning of the Equip World Relay has already begun to unfold into plans being formed for future-- yet to be announced-- relay walks in other locations around the world.
"John Maxwell is world renown for his teachings on leadership and as you would find in his '21 Irrefutable Laws of Leadership', it is important to attract other great leaders." Massa states and then continues, "This walk has accomplished that and more. I've met, walked and talked for days with extremely busy and influential business, government, and nonprofit leaders from around the world. Each of them is dedicated not only to the walk, but to the work of transformation in their cities, countries, and spheres of influence."
When asked what has stood out to Massa he answers as follows, "Two things stood out, the scope of the opportunity and the variety of leaders." He continues, "The scope is literally a world full of opportunities for transformation. Transformation is not needed only in some far-away place or in lesser developed countries, but in the most developed countries of the world, including cities and states in the United States. Guatemala is really a prototype of one such country."
Massa continues regarding transformation, "What is occurring with transformation is not unlike what is occurring with any other process of change or development of breakthrough technology or methods." Massa, who has been with three start-up technology companies that each reached their IPO, as well as having worked with the fastest-growing computer equipment company ever, Cisco Systems, and having consulting for eight years with a variety of "green technology companies," knows a few things about prototype development and change. "Everyone thinks they know what it takes to make a new technology or process work. However, nobody really knows anything until there is a prototype. Then the learning really begins." Massa concludes, "We'll see the same process of learning related to the process of transformation as the Guatemala prototype is implement and exercised. True knowledge regarding transformation is about to expand rapidly. It's all quite exciting."
Massa follows up on his second observation as to what stood out during his participation in the Equip World Relay for Transformation, the variety of leaders. "On this walk are people such as John Hull, President of Equip, who is running a global teaching organization in 177 countries, Steve Miller who is CEO MillWood, Inc., one of the largest pallet manufacturing and packaging logistics companies in the United States, and George Zangl, an Austrian entrepreneur who also is a globally recognized petroleum engineer now consulting in Malaysia after selling his software company to Schlumberger. Then I turn around and talk to a Pastor David Sobrepena, who pastors a 40,000 member church in the Philippines and Dr. Rob McClendand, CEO of the North American Baptist denomination who is also an Equip trainer and left the walk to conduct classes in Russia for 2 weeks. The variety is staggering!"
Massa continues, "Then there are people participating with huge hearts on both ends of their career timelines from just beginning to just ending. This ranges from a retired 40-year Methodist minister from Florida, Fred Gardner, who assisted in driving one of the escort vehicles throughout the entire walk, to a 20-something young insurance company sales support person, Helena Howe, from Pennsylvania and a 20-something young LPN, Shawn Jones, from Louisiana, to a Jeff Zurker who recently received his Ph.D in Organizational Leadership focused on sports, celebrated his 30-something birthday while walking, and is Executive Director of the Arington Foundation. As I said, 'I am impressed with the variety of leaders participating'."
Massa was with global internet giant Cisco Systems from 1992 when they were $365M in revenues until June of 2006 when Cisco was over $26B in revenues. Massa enjoyed many leadership positions, including his last position as the Executive and Chief Strategist for Global Government Solutions. Cisco's vision statement for nearly two decades was to "change the way people live, work, play and learn." Massa has a very real understanding of and experience in what it takes to transform a nation.
"I agree with the statements of John Maxwell, 'Transformation starts with transformed leaders' and 'All things rise or fall on leadership'." However, Massa contends it takes something more. "Yet, those are just the building blocks of transformation. Real transformation occurs when those transformed leaders form effective relationships within and across the seven major areas of culture, which are Church, Government, Business, Family, Education, Media, and Entertainment/Sports. Relationships build across those 7 areas is what 'weaves together' a new culture and creates the critical mass necessary to truly effect change. At Loom Enterprises we teach leaders tools to form effect Relationships using what we call the Relationship Wheel™."
The Equip World Relay continues into Mexico during the month of May. On Saturday, April 27th, the US Equip World Relay team headed by John Hull will hand the baton, or actually a set of flags, over to the Mexico Equip World Relay team headed by John Vereechen and the organization Lidere. They will in turn continue the relay down to the border of Guatemala where, on May 30th, the relay will be handed over to the Guatemalan team headed by Manuel Espina and the organization Guatemala Prospera. Guatemala Prospera is an apolitical, non-religious and non-profit association formed by businessmen whose primary objective is to be part of the change in Guatemala, through principles and values.
Massa intends to join the relay again in Guatemala. "I understand John Hull will rejoin the relay in Mexico just north of the Guatemalan border. As for me, I have been friends with the founder of Guatemala Prospera, Manuel Espina, for nearly a decade. I hope to join John and Manuel as the relay crosses into Guatemala and continues down to Guatemala City."
The relay will conclude on June 12th in Guatemala City at a ceremony and celebration at the city's futbol stadium or plaza, the exact location is still being determined at this time. Both John Maxwell and the President of Guatemala, Otto Fernando Pérez Molina, are scheduled to speak at the rally. Already the Equip World Relay walk has been featured several times in the Guatemalan newspaper Prensa Libre. Also, US Latin Television leader, Univisión, which broadcasts throughout the US and Puerto Rico, has run several full-length news reports on the Equip World Relay walk as it was joined by the Consul General of Guatemala, Jose Barillas Trennert as they walked through Houston (see news report by clicking here).
Many other business leaders who have worked for years to assist Guatemala in transformation will also be present at the concluding week of events in Guatemala City. One such business leader is Jerry Anderson, President of LaRed Business Network, which has taught principles and character values to business, government, and educations leaders throughout Guatemala. Equip Leadership is supported by a global set of leaders including those well-known in the US such as Edward Bastian, President of Delta Airlines, and Dan Cathy, CEO of Chick-Fil-A.
Loom Enterprises, LLC, Massa's consulting company provides a full range of business and organization consulting services. Loom Enterprises purpose is to educate, equip, and provide tools and consultation for leaders of the key areas of cultural influence so that local and global relationships can transform the world. You can reach James Massa at jmassa(at)loomllc(dot)com or visit the web site http://www.loomllc.com
Sustainable Essentials Enterprises, LLC, is a leader in providing organic produce, grown indoors in controlled environments, year round. Their product is safe, secure, nutritious and tastes great. More information about the predictable yields and business opportunities with Sustainable Essentials Enterprises can be found at http://www.supergrow.ag.
HiViz LED Lighting is located in Lillington, NC. For more information about how the HiViz line of FireTech LED lighting solutions can address your fleets lighting requirements or how HiViz Field and Stadium can reduce your car dealership, warehouse, parking, or athletic field area lighting costs, email sales(at)hivizleds(dot)com or calling the office at 703-662-3458. http://www.hivizleds.com or http://www.lightmyfield.com.