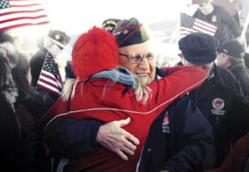 It's unbelievable how many lives are touched by the Honor Flight trips. I wish every WW II veteran could receive this honor.
Suffolk, VA (PRWEB) April 25, 2013
One of the most heartwarming documentaries about World War II veterans will be shown at the Suffolk Center for Cultural Arts on Sunday, May 5 at 3:00 p.m.
"Honor Flight: One Last Mission" tells the story of four living World War II veterans and a Midwest community coming together to give them the trip of a lifetime.
The screening is sponsored by Lake Prince Woods retirement community and Suffolk Center for Cultural Arts and admission is free. Reservations are encouraged and may be made by calling 923-0003 or visit http://www.suffolkcenter.org for more information.
The movie will also be shown at Piedmont Crossing retirement community in Thomasville, NC on May 20, and at Abernethy Laurels retirement community in Newton, NC on May 23. Lake Prince Woods, Piedmont Crossing and Abernethy Laurels are affiliated with United Church Homes and Services in Newton, NC
Matthew Hartman, Director of Honor Flight Historic Triangle Virginia, will introduce the movie and following the presentation will answer questions about the local Honor Flight organization and how veterans can apply to take the Washington, D. C. trip.
Local author, Ben Plewes, will be signing copies of his World War II-based books, "Suffolk's Call to Arms", and "Oceans Apart", before and after the movie.
The film features Orville Lemke, a former plumber and beloved father of nine, who fights to hold off terminal cancer so he can make the trip, and Julian Plaster, an 89-year-old poet who has survived almost all of his friends and family.
Honor Flight also chronicles the stories of veterans Joe Demler and Harvey Kurz. They raise money for and promote the Honor Flight program to help fly as many of their fellow veterans as possible. Joe, a soft-spoken retired postmaster, was famously pictured in Life magazine as "the Human Skeleton" upon his liberation from a German POW camp. Days from death, he weighed just 70 lbs. His comedic sidekick, Harvey, saw the iconic flag go up at the Battle of Iwo Jima, unbeknownst to the shoppers he bags groceries for at the local Pick n' Save.
Honor Flight organizations take World War II veterans to Washington, D.C. to visit the military memorials. For some veterans, who are in their late 80s and early 90s, it's often the first time they've been thanked for their military service and for some it is the last big trip of their lives.
The Honor Flight Network is a nonprofit organization that has flown over 100,000 veterans to Washington, DC. It consists of 117 hubs across the country. http://www.honorflight.org. Honor Flight Historic Triangle Virginia is the Hampton Roads hub.
Lake Prince Woods is a residential retirement community offering an array of lifestyle choices. Located in Suffolk, Virginia, the community is nestled among 172 lovely wooded acres bordering Lake Prince. As a continuing care retirement community, Lake Prince Woods offers residential living, assisted living, memory care and skilled nursing care. To learn more, visit the website: http://www.lakeprincewoods.org.