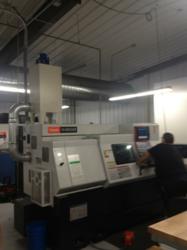 Aquest Corporation prides itself on quality-conformance to customer requirements. Phil Roland - President, Aquest Corporation
Somers, CT (PRWEB) April 24, 2013
Aquest Corporation will celebrate its 27th year in the business of providing customers with high quality industrial air filtration and air pollution control equipment. Aquest continues to improve product lines and engineer systems to meet the needs of customers' unique problems and will be demonstrating this in May at EASTEC.
Aquest designs, engineers, installs, and services a complete line of industrial air filtration and air pollution control equipment and systems. Aquest Corporation can handle many applications including dust, oil mist, odor, and weld smoke.
The number one reason why Aquest has been successful over the years is its ability to manage change and "think outside the box." Today's economy calls for quick response and cost-effective solutions.
Aquest Corporation has been able to put together high quality solutions on tight timeframes at affordable prices. With the recent changes in industry relating to dust collection, Aquest has emerged as a leading expert in designing systems to comply with OSHA.
The 2013 EASTEC Show is New England's largest trade show. It starts May 14th and lasts three days. It is located on the Big-E Fairgrounds in West Springfield, Massachusetts. Aquest will be at booth number 3151 and will be featuring many of its products and services.
One of the products featured at the upcoming EASTEC Show will be the Quest Air OM500 oil mist collector. Aquest designed, engineered, and manufactured this system from its facility in Saco, Maine.
Oil mist is an inherent problem in machining facilities all over the country. It collects on horizontal surfaces, trusses, floors, and creates a haze that is entrained in the air. There are many oil mist collection systems to choose, but only a select few of them work.
The Quest Air OM500 oil mist collector is one of those systems that work. It filters at a high efficiency and returns collected oil to the sump of a machine. The Quest Air unit has a footprint of 16" by 16" and is 32" tall.
For more information on the Quest Air OM500 unit and Aquest Corporation attend EASTEC and look for both 3151. Aquest is located at 626 Main St. in Somers, CT and can be reached at 860-749-3938.