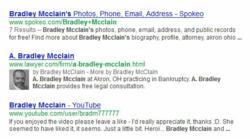 "Within search results, information tied to verified online profiles will be ranked higher than content without such verification..." - Google Chairman Eric Scmidt
Basking Ridge, NJ (PRWEB) April 23, 2013
Lawyer.com is proud to incorporate Google Authorship in its directory of 500,000 lawyers. The new technology will send additional traffic to our member lawyers as they look to incorporate Google best practices in their online marketing efforts.
As one of the fastest legal directories on the web according to Alexa, Lawyer.com is perfectly positioned to embrace Google Authorship. The new feature will create a beneficial user experience for potential clients looking for a lawyer, and provide additional value to our member lawyers.
Google Authorship connects one's online Google identity with their written content on the internet. In this case, one's online identity is represented by their Google+ profile. The connection appears in the form of a small image or rich snippet in Google's search engine results pages. Those not familiar with rich snippets should note that rich snippets increase click-through rates by as much as 67%.
The Lawyer.com team is well-versed in Google's technology and product offerings. Each Member Representative is constantly studying new SEO developments and all are trained to setup authorship tags according to Google best practices.
"Google Authorship helps lawyers stand out from the thousands of local lawyer listings," notes Gerald Gorman, CEO of Lawyer.com. "Less than 1% of U.S. Lawyers use rich snippets. A profile photo in Google's search results pages stands out from basic text listings resulting in higher rankings and more visitors".
Lawyer.com's technology team understands the importance of Google Authorship. While Google has not officially specified how Google Authorship impacts its search algorithm, early adopters of this technology will only benefit. Lawyers are already benefitting from the increased click through rates on their profile and LawSites.
Google's Executive Chairman, Eric Schmidt, is quoted in the new book, The New Digital Age,
"Within search results, information tied to verified online profiles will be ranked higher than content without such verification, which will results in most users naturally clicking on the top (verified) results. The true cost of remaining anonymous, then, might be irrelevance".
Lawyer.com's strong natural brand allows the platform to continually grow its traffic and connect potential clients to lawyers as fast as possible. Lawyers are urged to claim their online identity in Google. The technology team at Lawyer.com is ready to assist in this process.
Please contact 800-620-0900 or support(at)corp.lawyer(dot)com for all inquiries.