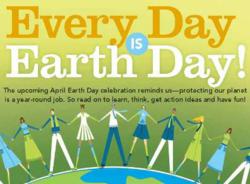 Our job is not done---our achievements to date are a big step down the path to a healthier planet, but there's a long way still to go!
Palo Alto CA (PRWEB) April 22, 2013
Earth Day is the perfect time for the City of Palo Alto to highlight the substantial progress our community has made in achieving its Climate Protection Plan goals.
Examples include:
*Estimated 2012 greenhouse gas emissions (GHG) for the Palo Alto community as a whole were 28 percent lower than 1990 emission levels. (Well ahead of the state goal of reducing emissions by 80 percent below 1990 levels by the year 2050.)
*Estimated 2012 GHG from City government operations were 53 percent below 2005 levels, which far exceeds the CIty Council's original goal to reduce these emissions by 20 percent by 2012.
*Having made significant progress in reducing the carbon footprint of its City facilities, Palo Alto estimates it has saved over $500,000 over last year through lowering electric and gas usage.
In addition to highlighting progress on its Climate Action Plan (adopted by the City Council in 2007), the City of Palo Alto is honoring Earth Day with a number of events this past weekend and several more coming up:
April 27 Great Race for Water Savings—5K Fun Run and Walk
May 2 EcoHome Open House
May 5 "Bringing Back The Natives" Garden Tour
Visit City Earth Day 2013 to discover more of what there is to know about sustainability in Palo Alto and what you can do to participate in our community's progress towards a healthier planet.