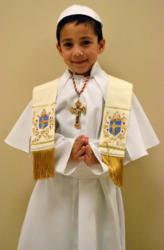 "Nathaniel loves Jesus so much," reported Ms. Rose Maher, his kindergarten classroom teacher at Everest.
Lemont, IL (PRWEB) April 24, 2013
Kindergarten student Nathaniel Akroush was selected to represent Pope Francis in the annual celebration of "Pope Day" at Everest Academy in Lemont. As part of educating the whole child at Everest, the spiritual formation program includes learning to respect the Pope as the leader of the Catholic Church and an important spiritual figure in the world.
Each year, a Kindergarten student is selected to act as the Pope based on his character, spirituality and dedication to serving others. Nathaniel Akroush was selected for the role of the pope this year by a team of staff that included the Kindergarten teachers, the Dean of Students, and the Principal. "Nathaniel loves Jesus so much," reported Ms. Rose Maher, his kindergarten classroom teacher at Everest. "He is such a gentleman and always goes out of his way to help others, such as helping classmates with their coats or welcoming visitors." Besides being very kind, Nathaniel is very spiritual. For example, on Career Day at Everest, he dressed up as a Catholic priest. Nathaniel is the son of Dr. Joel and Jeannette Akroush of Lemont.
The young man acting as pope wears a papal robe costume complete with a zucchetto (beanie) similar to the Pope. He is escorted by his classmates in a pope-mobile style wagon, and travels around the school to bless all of the students. The students generally respond with the popular cry of the crowd at the Vatican, "Viva el Papa," which means "long live the Pope."
To prepare for Pope Day each class at Everest - from the 3-yr-old preschoolers to the eighth graders - learn more about the person of the Pope and the role of the Pope. Each of the classes watched two movie clips about the newly elected Pope Francis, including photo collages from the time he was young. They also learned in class what the Pope does and some personal things about him. Pope Francis' favorite sports are playing basketball and watching soccer, his favorite dance is the tango, and his favorite virtue is humility and meekness. The students at Everest learn to practice the virtues as part of their daily educational program.
Everest Academy is an independent Roman Catholic school in Lemont educating children from preschool through eighth grade. The teachers and staff are dedicated to forming the whole child by providing the highest level of academics, by building strong character, and by preparing generous leaders ready to serve the community. To learn more about Everest Academy's unique approach to education, please contact Coleen Mast at 630-243-1995 or visit http://www.everestadvantage.org.