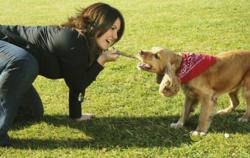 Brea, CA (PRWEB) April 23, 2013
For all the trips to the veterinarian and treats given out, Pet Parent's Day on Sunday, April 28, celebrates those who lovingly consider their pets part of the family. Veterinary Pet Insurance Co. (VPI), the nation's oldest and largest provider of pet health insurance, commemorates the occasion by offering free customizable Pet Parent's Day e-cards on its Facebook page.
Throughout the month of April, visitors to VPI's Facebook page can customize a free Pet Parent's Day e-card to send to their pet loving friends. Visitors can select among creative and fun dog, cat, bird and exotic pet illustrations, or upload a photo of their favorite furry friend. Senders will also be able to compose a personalized message on each e-card to pet parent recipients. Both senders and recipients can share the finished Pet Parent's Day e-card with family and friends on Facebook.
"We created Pet Parent's Day six years ago to recognize the special commitment that pet owners make to their furry, four-legged family members," said Curtis Steinhoff, director of corporate communications for VPI. "A 2011 Harris Interactive Poll reported that 91 percent of Americans consider their pet to be a member of their family, which shows that the human-animal bond is as strong as ever. We feel it's important to set aside one day dedicated to pet parents."
About Veterinary Pet Insurance
With more than 485,000 pets insured nationwide, Veterinary Pet Insurance Co./DVM Insurance Agency (VPI) is a member of the Nationwide Insurance family of companies and is the oldest and largest pet health insurance company in the United States. Since 1982, VPI has helped provide pet owners with peace of mind and is committed to being the trusted choice of America's pet lovers.
VPI Pet Insurance plans cover dogs, cats, birds and exotic pets for multiple medical problems and conditions relating to accidents, illnesses and injuries. CareGuard® coverage for routine care is available for an additional premium. Medical plans are available in all 50 states and the District of Columbia. Additionally, one in three Fortune 500 companies offers VPI Pet Insurance as an employee benefit. Policies are offered and administered by Veterinary Pet Insurance Company in California and DVM Insurance Agency in all other states. Underwritten by Veterinary Pet Insurance Company (CA), Brea, CA, an A.M. Best A rated company (2012); National Casualty Company (all other states), Madison, WI, an A.M. Best A+ rated company (2012). Pet owners can find VPI Pet Insurance on Facebook or follow @VPI on Twitter. For more information about VPI Pet Insurance, call 800-USA-PETS (800-872-7387) or visit petinsurance.com.