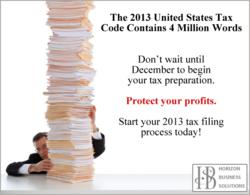 Companies that begin tax preparation in the last quarter are already too late.
Columbus, Ohio (PRWEB) April 24, 2013
You can hear the collective sigh of relief from business owners across the country as final preparations were made to their 2012 tax return to meet the April 15th deadline. But a local tax company, Horizon Business Solutions (HBS), wants to change the mindset around how the small business community prepares for their annual obligation of tax filing.
"Never before have there been so many changes to the tax code," says Kim Bolin, marketing VP of Horizon Business Solutions. "The way small business has previously approached the tax process is fast becoming ineffective."
According to Nina Olson of the Internal Revenue Service, there were 579 changes to the tax code for 2012 and the code hit 4 million words this year. Due to the overwhelming number of tax changes predicted for 2013 and the growing complexity of the tax code, the tax consultants at HBS are trying to send a message to their clients and others in the community that the tax planning process must begin in January of each year.
Bolin says, "Small businesses owners are typically reactive when it comes to tax planning. They come to us at the first of the year and we then try to work with them to lower their taxable revenue." Bolin and his team of tax professionals at HBS have begun a public campaign to educate business owners about the rewards of starting the process early.
Bolin suggests that now is the perfect time to start working with a tax professional and create a strategic plan around what can be done differently to avoid paying unnecessary taxes for 2013. "If I can get the small business owner to think proactively about tax filings, I believe it would save them time and money, and maybe even reduce some stress this time of year, next year."
Tax planning is the process of looking at various tax options in order to determine when, whether, and how to conduct business and personal transactions to reduce or eliminate tax liability. Business owners will benefit from a monthly review of income and expenses and meet with a tax advisor quarterly to analyze how they can take full advantage of the provisions, credits and deductions that are legally available.
"Now is the time to begin to plan on achieving a better outcome on your 2013 tax return to be filed next year," says Bolin. "A strategic tax plan should align with a company's unique business goals, as well as their long-term personal financial goals."
With tax laws changing every year, it's hard for business owners to manage all aspects of running a business well. He suggests business owners reach out to tax professionals to create a strategic tax plan around the following services:

Structuring your personal and business transactions;
Year-end planning to help minimize your tax liability;
Executive compensation planning;
Self-employment strategies;
Payroll strategies;
Retirement and estate planning.
Kim Bolin works for Horizon Business Solutions (HBS), a unique full service accounting firm providing small to medium size businesses with revolutionary ways to handle bookkeeping and accounting.