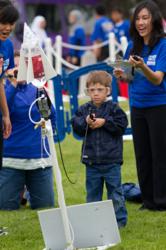 It's great to see our community, especially kids, come out to this event to build and launch rockets, learn about science and space, and have fun with their families
Santa Ana, Calif. (PRWEB) April 22, 2013
Discovery Science Center (DSC), The Boeing Company (Boeing), The Boeing Community Employee Fund, ScholarShare and Future Scientists and Engineers of America are teaming up to host the annual Rocket Launch on May 11, 2013 – a day of fun, hands-on activities for the whole family.
"The goal of our annual Rocket Launch is threefold: to ignite a passion for hands-on and fun filled learning, to excite children about engineering careers, and to have a great time!" said Janet Yamaguchi, vice president of education, for DSC. "We're hoping to inspire the next generation of innovators."
The event, which has attracted thousands of guests in past years, will be held at Boeing's Huntington Beach facility. Attendees will be able to design, build and launch their own rockets created from two-liter plastic soda bottles. The 'Ask an Engineer' table can give professional advice to any inspiring rocket creator. The home-made rockets get launched into the sky by using a blend of pressurized air and water for propulsion, and then deploy a parachute as they fall back to Earth. By creating and launching a bottle water rocket, guests can compete to have the longest "hang time" in the air. Guests in attendance will get wet!
"Boeing is proud once again to host Discovery Science Center's Rocket Launch. It's great to see our community, especially kids, come out to this event to build and launch rockets, learn about science and space, and have fun with their families," said Rick Baily, vice president, Engineering, Mission Assurance & Product Support for Boeing Defense, Space & Security.
Rocket Launch is a free event open to the public. For more information, visit discoverycube.org/rocketlaunch.
About Discovery Science Center
For 25 years, Discovery Science Center (DSC) has been a non-profit organization dedicated to educating young minds, assisting educators teach science and increasing public understanding of science, technology, engineering and math through interactive exhibits and programs. With one of the largest education outreach programs in the county and an unparalleled approach at creating immersive, game-based exhibits, DSC is revolutionizing how educational content is delivered. Throughout the year, guests can take the Eco Challenge and become a green superhero or feel the power of a simulated rocket engine launch. Traveling exhibits and annual events such as Spooky Science and Bubblefest throughout the year ensure that there is always something new to discover. DSC owns and operates the Taco Bell Discovery Science Center based in Santa Ana, CA and will be opening a second facility in Los Angeles in 2014. For more information, call (714) 542-CUBE or visit http://www.discoverycube.org.
About The Boeing Company
A unit of The Boeing Company, Boeing Defense, Space & Security is one of the world's largest defense, space and security businesses specializing in innovative and capabilities-driven customer solutions, and the world's largest and most versatile manufacturer of military aircraft. Headquartered in St. Louis, Boeing Defense, Space & Security is a $33 billion business with 59,000 employees worldwide. Follow us on Twitter: @BoeingDefense.