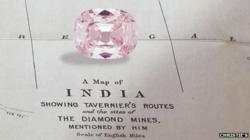 To find a single natural pink diamond of this size and provenance is incredible
Toronto, Canada (PRWEB) April 23, 2013
Natural colour diamonds rank amongst the most rare and valuable hard assets the world has to offer, but even the colour diamond industry had to stand back for a moment last week and marvel as an extraordinary rare Indian pink diamond, one of the largest ever, was sold for more than $39.3 million dollars.
The 34.65 carat, natural pink, believed to be the third largest in the world, was found almost 300 years ago in the Golconda mines in southern India.
Once belonging to the royal family of Hyderabad, rulers of one of the wealthiest provinces of Mughal, India, this incredible piece carries "a fabulous provenance, which brings together the legendary names of Golconda, [the] Nizam of Hyderabad, and the Maharani Sita Devi of Baroda," said Christie's jewellery department head Rahul Kadakia before the sale.
The Golconda mine resides in an area known for the oldest diamond mines in the world, producing stones as early as 800 BC.
Diamonds produced in the Golconda mine and the surrounding region were believed to be "God's gift" to India, and the world's four largest natural pink diamonds have all been found in this region.
Natural Pink diamonds are typically found in the Australian Rio Tinto Argyle diamond mines of Western Australia, but the size of the Golconda pinks make the Indian mine a unique hub for the most concentrated form of wealth on the planet.
"To find a single natural pink of this size and provenance is incredible," said Jeff Kushner, President of Genesis Rare Diamonds, in Toronto Canada. "As a dealer internationally in natural colour diamonds, with a focus on pinks particularly, we naturally pay attention whenever a truly unique stone such as the Princie goes out on the market."
Natural pink diamonds rank amongst the most rare of colours, and as such carry a higher value for investors and collectors the world over.
About Genesis Rare Diamonds (Ontario) Ltd. "GRD"
Genesis Rare Diamonds specializes in the trading of some of the world's highest quality, investment-grade and conflict-free natural colour diamonds. Rare coloured diamonds are the most concentrated form of wealth on the planet as they make-up less than 1% of the world's diamonds mined annually. In over 30 years of value tracking, the wholesale value of investment grade natural colour diamonds have never decreased, despite world conflict, terrorism and economic upheaval.
These diminutive commodities are part of an ever-diminishing worldwide supply. With constantly increasing buyer demand, annual value increases have been pushed to increasing levels. On average, over the last 30 years, natural colour diamonds have increased in value by 15% to 30% yearly with no signs of slowing notwithstanding the economic downturn of 2008.
Natural Fancy Coloured Diamonds are not a short-term investment. This asset class is intended for the longer term, with a holding strategy that could potentially net returns far greater than the stock market could hope to achieve. Our diamond group is dedicated to ensuring the best possible position for every client. We recommend only the finest natural colour diamonds at the most reasonable and competitive prices.
Genesis Rare Diamonds pledges to never deal in blood or conflict diamonds and never will. All of our diamonds have undergone strict compliance with the Kimberly Process, are certified by recognized gemmological laboratories (such as GIA and EGL) and are unconditionally guaranteed as to cut, clarity, colour and carat weight.
Disclaimer: Genesis Rare Diamonds is not an investment advisor nor is it licensed to provide investment advice. Genesis Rare Diamonds strongly recommends that their clients seek the advice of their financial advisors, gemologists and/or attorneys if they are seeking to invest in quality diamonds as part of an investment portfolio or strategy. Natural colour diamonds have been subject to upward price movements historically. Genesis cannot guarantee that upward price movements of natural colour diamonds which have occurred historically will continue in the future.