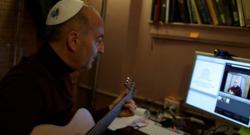 New York, NY (PRWEB) April 25, 2013
After years of his idea of an online Jewish community being labeled as "too non-traditional" and "too visionary," Rabbi Steven Blane has combined his love for music and joyful worship together with his goal of nurturing a congregation of individuals in a non-judgemental and non-political online environment.
Sim Shalom's philosophy is Jewish Universalism As interpreted by Rabbi Blane, "Jewish Universalism welcomes people of all faiths to attend and participate in all Jewish rituals and liturgy."
Sim Shalom reaches out to interfaith couples, the unaffiliated and people who are simply unable or unwilling to attend brick-and-mortar synagogues. The services are easily accessible for the elderly, infirm and disabled. They combine modernization with tradition- the liturgy is mostly in Hebrew and is sung to traditional "nusach" (melodies) which are then broadcast around the world.
People from countries such as Germany, Australia, South Korea, Kuwait, England, Canada, Portugal and Mexico are regular participants at Sim Shalom's online synagogue
"We get little Judaism here in Daegu, S. Korea. It is rare to have a Rabbi visit us, so as often as we can, we watch your services. It brings a little piece of home to us here in a far off place," said a soldier stationed overseas.
"Thank you so much for what you are doing! I live on the Southside of Atlanta and the nearest Synagogue is almost an hour away and sometimes with two hours of traffic, it defeats the purpose of Services because I am so tired upon arrival that I can't even read the Prayer Book," says Don.
At a time when Jewish traditions and rituals seem to not connect to the liberal and secular Jewish world, Rabbi Blane hopes to reach out to teach and build a kehila kedosha (a holy online community).
His Sim Shalom community now offers weeknight Ma'ariv services and online Friday night Kabbalat Shabbat services for the entire world every night at 7PM EST.
About Sim Shalom:
Sim Shalom is a non-profit 501(C)(3) tax exempt organization. Sim Shalom's mission is to nurture a Jewish connection through innovative services, creative education and dynamic outreach to the local and global community. They accomplish this through offering weekly online interactive services. Their services are participatory and accessible for everyone.