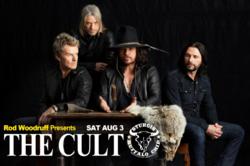 Sturgis, South Dakota (PRWEB) April 23, 2013
The Sturgis Buffalo Chip® announces one of the most influential and well respected British rock bands to break onto the American Charts, The Cult, will rock the Chip's Sturgis summer music festival Saturday August 3. The Cult is expected to bring trailblazing hard rock hits from the 80's and 90's as well as the no frills hard rock from their recent 2012 album to the Sturgis motorcycle rally. Visit BuffaloChip.Com for summer music festival information and campground admission passes.
The Cult, with platinum albums and dedicated fans worldwide, has a following that runs deep throughout the music industry. Originally from the UK, The Cult came to New York in the early 80s and sold millions of albums over the years with popular songs like "Sweet Soul Sister," "Fire Woman," "She Sells Sanctuary," "Love Removal Machine," "Rain," and many others from albums "Love" and "Sonic Temple" to "Born Into This" and "Choice of Weapon". Prepared to make an impact second to none, these edgy rockers plan to evoke a crowd and rock the house during the 2013 summer music festival at the Sturgis Buffalo Chip.
"The Cult has been recognized as an undeniable force of pure rock throughout the years," says Rod Woodruff, President of the Sturgis Buffalo Chip. "Rock being the main staple for fans at the Chip, we are truly honored to say The Cult is going to rock the Chip during this year's rally."
The 32nd annual Sturgis Buffalo Chip® motorcycle and music festival takes place August 2-11, 2013 during the annual Sturgis motorcycle rally. The summer music festival lineup already includes Rob Zombie, Kid Rock, Toby Keith, ZZ Top, Halestorm, Mastodon, Machine Head, Brantley Gilbert, Queensrÿche and Sublime with Rome. More bands will be announced soon. All summer music festival and motorcycle rally information is available at http://www.buffalochip.com and (605) 347-9000.
About The Sturgis Buffalo Chip
Sturgis Buffalo Chip® 2013 will take place August 2nd – August 11th. The Largest Music Festival in Motorcycling™ and the Sturgis rally's cornerstone event will celebrate its 32nd consecutive annual concert series at their famed camping resort. Since 1981, the Sturgis Buffalo Chip® has provided unforgettable live music experiences and exciting activities for fans from around the world. The Sturgis Buffalo Chip® attracts the music industry's hottest stars and emerging talent and hosts a diverse selection of food and beverage vendors and interactive exhibits. Set on 580 acres, three miles east of Sturgis, the Buffalo Chip® is a festival experience like no other. More details are available at http://www.BuffaloChip.com.