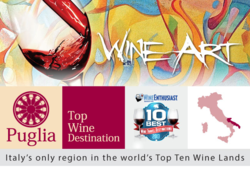 San Francisco, CA (PRWEB) April 23, 2013
A select group of producers from Puglia, the jewel of Italy's southern regions (recently voted a top 10 wine travel destination by the leading wine publication, Wine Enthusiast), will pour their wines at the City Club in San Francisco on May 14th. In addition to the wines, the event — called WineArt — will showcase an exhibition of beautiful paintings by the rising-star artist and Puglia native Gabriella Legno (http://www.gabriellalegno.com). Guests will be press, trade, wine industry influencers and art critics.
The Movimento Turismo del Vino Puglia (http://www.mtvpuglia.it), the organization promoting the event, will host guests and provide an overview of the region, the terroir and the indigenous grapes of this historical, beautiful region that has yet to be widely discovered by Americans travelers or wine drinkers.. Antipasti will be served throughout the tasting. Each guest will receive information on wineries and twelve travel itineraries for visiting the beautiful land of Puglia.
This event is part of a series of activities undertaken by the organization Movimento Turismo del Vino Puglia to promote the region's wines to an international audience, leveraging the recognition gained by the Wine Enthusiast feature.
The WineArt event will run from 5:00pm - 7:30pm on Tuesday May 14, 2013 at the City Club (155 Sansome Street). Participating producers are: Apollonio, Carvinea, Menhir, Mottura, Paolo Leo, Rivera, Tormaresca, Vigne e Vini, Palamà, Masseria Altemura.
MTVP is also an official sponsor of the charity event Bring Back the Beach which will take place in Santa Monica on May 17. For more info on the event please visit healthebay.org/event/bring-back-beach.
In addition to events, the Movimento Turismo del Vino Puglia's is currently running a contest (open to everybody) to promote Puglia as a travel destination. The grand prize is a trip to Puglia; contestants can enter at http://www.mtvpuglia.it/wannawin.
About Puglia
The Puglia region, known for great weather, breathtaking views, and a long wine and food tradition, welcomes travelers from all around the world. This sunny land, called "the heel of the Italian's boot," is surrounded by the Adriatic Sea on the east coast, and by the Ionian Sea on the southwest coast. It has 500 miles of coastline and its known for the deep, turquoise sea and its white, rocky beaches. The climate is very similar to California's Bay Area and gives to the grapes a unique character and structure that makes for big, bold wines.