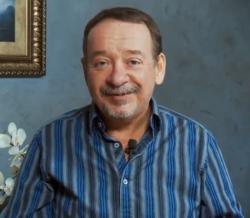 This webinar reveals what every guy needs to know about Fifty Shades of Grey
(PRWEB) April 22, 2013
It's no secret that women love the Fifty Shades of Grey books. Global sales of the trilogy are said to be over 40 million and still going.
But men are baffled by the whole phenomenon. And they don't have a clue why women get so sexually aroused simply by reading the 50 Shades of Grey books.
Which is why Renegade Hypnotist Mark Cunningham decided to do a teleseminar to decode the romance novel language into normal guy-speak. Because after reading the novel himself, Cunningham says "It's like an owner's manual for women!"
The event was titled, What Every Guy Needs To Know About 50 Shades of Grey, and was originally presented on September 9, 2012.
As a former Clinical Hypnotist, Cunningham has spent over 30,000 hours talking with women clients. "I've had so many housewives tell me their fantasies during these sessions, that I totally understand why Fifty Shades of Grey is a HUGE turn-on" Cunningham said.
"Women read this book, adult novelties fly off the shelf and mystified boyfriends and husbands are getting the best sex of their lives." Cunningham continued, "This webinar reveals why, so it was too good not to make it available again."
Originally done as a live event for 535 men in 15 different countries, the rebroadcast of the original Fifty Shades of Grey Teleseminar is once again available. And there is no charge for access.
Anyone who would like to register for the replay, can go to webinar replay webpage on the Renegade Hypnotist website (http://RenegadeHypnotist.com) and enter their email. Full details on how to access the replay will be sent immediately.
For further information or to schedule an interview with Mark Cunningham, call 419-882-8543 and ask for Cassi Cunningham.