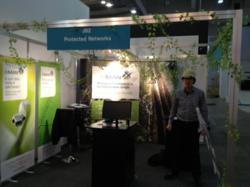 The new features are developed in response to our clients' changing requirements. - Stephan Brack, CEO
London (PRWEB UK) 23 April 2013
protected-networks.com, Europe's leading privilege management and information trust company, today announced the UK launch of the latest version of its flagship solution 8MAN. 8MAN 5.0 will include several new features to help clients understand conflicting privileges, duplication and other inaccuracies by providing detailed reports on permissions within SharePoint and Exchange.
The new version focuses on detailed reporting, enhanced productivity and efficiency to eliminate data security lapses caused due to over-privileged users. 8MAN 5.0 includes the following new features:

Who can access and who modified items in the Active Directory? This new 8MATE captures all alteration made within Active Directory – for instance: Alterations to user accounts, computer accounts, groups and group memberships, and other such attributes. Furthermore, these changes are displayed in the 8MAN logbook for each AD element.
Simplify purpose groups by giving them a logical name: Sets the connection between AD groups and external resources indicating which users have access to which particular resource, e.g. Door lock system, VPN, Software applications etc. This feature is particularly beneficial for a simpler understanding of access rights to critical resources within the organization.
Expose and explore Active Directory Permissions: It is now possible to view the Active Directory OU structure and all the current permissions in detail. Additionally, there is the new Dashboard feature providing quick reports e.g. which non-admin users can modify Active Directory objects.
Curtail unwanted access by setting an end date for user-accounts: In Active Directory, user end-dates can now be clearly defined, terminating the access permissions automatically once the account expires.
Public folders and mailboxes under control with 8MATE for Exchange: In 8MAN 5.0, 8MATE for Exchange will now display access rights to public folders, mailboxes, calendars, personal folders. Detailed information can now be obtained on absence notes, Send As, Out of Office, forwarding and substitution rules. Public Folder Permission Reports can now be generated making it especially valuable for the administrators.
"The new features are developed in response to our clients' growing requirements to understand even better the access situation within the company. 8MAN 5.0 is especially suited for organisations struggling with exploding amounts of unstructured data and losing overview on 'who can access which data?'. With the latest 8MAN release companies can ensure with enhanced efficiency that access is strictly on a need-to-know basis on an even wider range of systems," said Stephan Brack, CEO, protected-networks, here at Infosecurity Europe.
protected-networks.com GmbH has an international presence and network across Europe, with a growing number of reseller-partners and more than 350 clients across all sectors, including organisations such as ATOTECH, Airport Riga and IFF Research. Company's growing footprint is attributed to 8MAN's ability to answer:
Which users have access to what data?
Who can access a given directory or SharePoint web application?
Who made which changes to user permissions?
Who touched which data and what did they do with it (delete, modify, copy, move, etc.)?
PR CONTACT:
Smriti Dave |International Marketing & PR | Email: s.dave (at) protected-networks (dot) com | +44 (0) 1276 919 989, +49 (30) 390 63 45-67
About protected-networks: Founded in 2009, protected-networks GmbH is global company, headquartered in Berlin that develops integrated solutions for access rights management of physical and virtual server environments across all business sectors and at public authorities. The solution, 8MAN is an Information Trust Software based on an innovative approach to integrated data security management and offers uniform and automated management of user rights. Clients thereby save cost and time while increasing protection against unauthorised internal access.