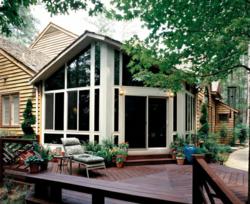 How much space you want and how much you need may be two different things.
MIAMI, FL (PRWEB) April 23, 2013
Homeowners should make key decisions about the space they need before even talking to contractors about building an addition, said Christopher Noe, president of Venetian Builders, Inc., Miami.
Venetian is a leading installer of custom-designed aluminum sunrooms, patio covers and screen enclosures in South Florida. It serves the Keys, Miami, West Palm Beach, Fort Lauderdale and all nearby communities. It designs and builds in a wide price range.
"The only way a contractor can prepare to build an addition is for the homeowner to first know what is wanted," Noe said. "Any decent contractor will ask about certain things right off the bat. It pays for the homeowner to decide these things well ahead of time.
"Venetian custom-designs each project, and each design is based on information from the homeowner."
Noe offers a planning checklist and tips for considering each point:
Ideas. "Find design ideas in magazines, home sections of newspapers or on websites," Noe said. "For instance, you'll find sunroom ideas in a gallery of interior and exterior photos on the Venetian Builders site. Save the photos you like, whether from print or electronic media, to show contractors."
Budget. "Will you pay cash from savings?" Noe asked. "Borrow off a home equity line? Take a second mortgage? Or maybe use a combination of those? Talk to your banker if a loan is needed and determine the costs. Decide on a monthly payment that is comfortable."
Size. "How much space you want and how much you need may be two different things," Noe said. "Determine both so you have a fall-back position if your wants exceed your budget. It may also help a contractor suggest compromises that still deliver on your needs. Look at the rooms you have and how they're used to help figure how much more space would eliminate crowding or multiple uses."
Function. "Answer one simple question: How will your new room be used?" Noe said. "Multiple uses are fine as long as you plan for them. A study, home office or media center may require more electrical outlets and wiring, and perhaps less light than the optimum, affecting windows and roof overhang. Ample outdoor views and interior brightness would push designers in the opposite direction, striving for more and bigger windows."
Comfort. "Know your comfort level," Noe said. "Air-conditioning and heating, screening, operating windows and ceiling fans are all options."
Level of finish. "Aluminum additions, even in their most basic form, have hidden fasteners and factory-finished surfaces," Noe said. "But depending on your tastes, your home and your neighborhood, and certainly your budget, you may want to have workers finish off ceilings, floors, walls and the roof. List your priorities. Some, such as a wood ceiling finish or roof covering, you could add as your budget allows."
Timing. "How soon do you want your space?" Noe asked. "Aluminum additions permit faster and install faster than traditional construction."
Venetian Builders' free estimates are written and detailed. They are based on information gathered at a no-cost, in-home consultation. Homeowners can see life-size examples of framing, roofing, windows, doors, screening and other features right in their driveway.
For more information, call 866-596-2427.