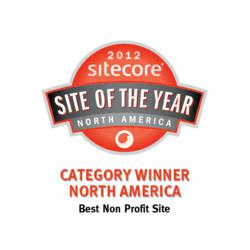 The Site of the Year award reflects the time Verndale and our staff took working together to ensure that the final deliverables matched our organization's needs.
Boston, MA (PRWEB) April 23, 2013
Verndale, an award-winning digital marketing agency, is pleased to announce the launch of two web assets for long-standing client The Boston Foundation (TBF): tbf.org and bostoninddicators.org. Additionally, tbf.org was selected as the Sitecore Site of the Year in the non-profit category. As a major organization managing funds established by donors, for the general benefit of the Greater Boston community, The Boston Foundation was looking to present a more user-focused web presence that reflected their mission and values.
Sitecore's Site of the Year awards recognize organizations that have developed outstanding websites using the company's Content Management System (CMS). Nominations are judged on creativity, integration with applications, engagement, the ability to educate and motivate to action, and the overall user experience. This is the fourth time, and third year in a row, that Verndale and its clients have been recognized for the Site of the Year.
"We have worked with Verndale for many years, and we're confident they would be able to deliver on this ambitious project, which captures the multiple missions of the Boston Foundation," said Mary Jo Meisner, vice president of communications, public affairs and community relations at The Boston Foundation. "The Site of the Year award reflects the time Verndale and our staff took working together to ensure that the final deliverables matched our organization's needs."
Implementing both tbf.org and bostonindicators.org (funded by The Boston Foundation) onto Sitecore CMS, Verndale deployed both sites on the same Sitecore instance presenting eased access to those updating site content by allowing content sharing between the two sites. In addition to a comprehensive CMS implementation, both websites received a complete redesign offering visitors an enhanced, user-friendly design and navigation. Included in the redesign of bostonindicators.org, Verndale integrated a third-party data visualization tool allowing internal site users to update data and reports with real-time statistics, while permitting visitors to share, change, interact and embed those reports.
"The Boston Foundation is dedicated to improving the Greater Boston community and the lives of those who live there," said Chris Pisapia, northeast managing partner at Verndale. "We are really pleased to have tbf.org selected as a Sitecore Site of the Year, but more importantly we are proud to contribute to helping The Boston Foundation achieve their goals by making their site welcoming for donors, those seeking grants and interested visitors."
About Verndale
At Verndale, we make digital marketing do what it's designed to do: deliver compelling content to the right user through the best channel at the optimal time. The result for our clients: more profitable customer relationships.
It sounds simple, but with the incredible proliferation of content, channels, platforms and technology, it's actually quite complex. Our comprehensive services in digital strategy, experience design, technology and digital marketing shield our clients from that complexity so they can orchestrate their content more easily and effectively.
Our clients love the exceptional experiences we help them create for their users. They trust our deep technical expertise and proven methodologies to seamlessly execute on everything they need. And they rely on our continuing analysis to fulfill the real promise of digital marketing: the ability to track activity, measure results and optimize efforts. It all combines to achieve more agile marketing and, ultimately, greater performance. For more information, visit http://www.verndale.com.
About The Boston Foundation
The Boston Foundation was founded in 1915 with a simple, but profound mission—to receive gifts from generous donors and use those resources to make grants to the nonprofit organizations that serve the Greater Boston community.
Media Contact:
Lauren McDonald
Marketing Coordinator
617-399-8774