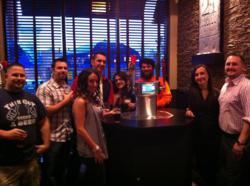 It's really cool to watch people engage with it. I have no doubt it will be a big part of the business moving forward
Jackson, NJ (PRWEB) April 23, 2013
The NJ ABC agreed late in 2012 that technology had finally surpassed the laws on the state's books and that it was time for NJ customers to be able to sample different types of beer from the taps themselves. The board met and approved the concept of self-serve beer for the state with certain limitations. The customer would be allowed access to a limited amount before requiring staff assessment on whether they were fit to re-serve at that point or not. That limit was agreed as 32 ounces of beer (two pints). In doing so they became the 44th state in the union that allows self-serve beer and bar owners and customers alike are impressed that the board has done so. The tables were deployed on Friday April 19th. A large crowd assembled that evening and there was a giveaway for a trip to Hawaii for two for some lucky patrons at midnight in celebration of the momentous occasion.
"The tables allow my customers to sample a small amount of whatever beer I put on tap. They don't have to commit to a standard glass like you do at most bars. When they find one that they really like then they can pour a full one" said 21 South Bar and Grill owner Scott Barber. "It is a great way to stay on top of consumer trends with all that is going on in draft beer right now. My customers love it as it gives them choices of both beer type and the amount they would like to try" he continued.
"The NJ ABC were cautious initially but once they understood how the system worked, and the depth of responsibility we have built into our system, they were both helpful with and amenable to the idea" said Declan Duggan, co-founder of pourmybeer.com. "It was refreshing to see a governing body look at this from, not only their point of view as a regulatory body, but that of their retailers. They saw that it could mitigate waste costs and drive responsible, incremental beer sales to the retailer as well as traffic so they approved it knowing that it was a win for consumers, retailers and the state".
Mike Kivowitz, President of New Jersey Craft Beer was in attendance and said that he was "excited that these pourmybeer tables are now available in New Jersey so craft beer drinkers can truly experience their beer by not only pouring their own beer but by savoring the taste and aroma. It's another fun and engaging way to explore beer in NJ."
Customers can access beer at the tables by first 'checking in' with their driver's license. That creates a profile for them and they get a corresponding RFID wristband that is attached to that newly created profile. The wristband opens the tap of their choice when they place it at the RFID reader next to that tap. They pour what they like, consume, repeat. When they hit their two beer limit a staff member assesses their condition and if deemed OK they wave their 'manager' wristband over the RFID reader, the customer follows suit and they have access to two more beers! Simple, responsible and fun!
"The customer reactions so far have been great to see. They go from a palpable excitement when they get their wristband to gob-smacked that they can pour their own beer to sincere thanks when they are done. It's really cool to watch people engage with it. I have no doubt it will be a big part of the business moving forward" said Chris Wolf, GM for 21 South Bar and Grille.
"We are looking forward to adding more customers in NJ soon" said Josh Goodman, Duggan's business partner at Innovative Tap Solutions. "There are so many opportunities for this to work in different types of licensed premises with shore towns, casinos, hotels, venues and the 'NYC tunnel town' businesses that could all benefit from the units"
http://www.pourmybeer.com is an Innovative Tap Solutions Company. The company was formed in MD in 2008 and made the first commercial mobile self-serve beer tables in the US. It also sells and distributes fixed beer walls, mobile draft beer walls, fixed draft beer tables and mobile draft self-serve tables as well as mobile dual temperature wine walls. All mobile equipment is proudly made in the USA. Contact sales (at) pourmybeer (dot) com or call 215-219-9203/443-691-2337