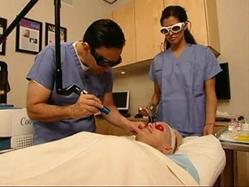 Los Angeles, California (PRWEB) April 22, 2013
According to a March 2013 article published in W Magazine, as one ages the skin becomes less oily and pores become larger due to two main factors. First the production of new skin cells slows down significantly causing clogs that stretch out formerly tiny skin pores. Second, the hormonal changes that occur due to the aging process lower the production of collagen and elastin, weakening the walls of previously taut skin pores and allowing them to widen. Treatments such as Ulthera and Fraxel have been shown to effectively treat this problem (Go to goo.gl/dCwCI).
"As the article states, a study conducted in the UK found that estrogen is quite effective in decreasing skin pore size," says Dr. Simon Ourian, Medical Director of Epione Beverly Hills. "However, due to the side effects of hormone replacement therapies, most doctors in the US prefer to avoid such therapies and instead opt for other treatments such as laser procedures to shrink enlarged pores."
The article reports that Ulthera ultrasound and Fraxel laser treatments are effective in stimulating the production of elastin and collagen that aid in shrinking skin pores. Of the two devices, Ulthera is less invasive and usually generates results in one treatment session. The Fraxel laser may work best for patients who also require treatment for skin damage.
"The Laviv procedure mentioned in the article is very interesting," says Dr. Ourian. "A healthy piece of the patient's skin is used to propagate new fibroplasts for injection into areas that would benefit from new collagen production. It's been FDA approved since 2011."
Dr. Ourian has been a pioneer in laser technology and non-invasive aesthetic procedures including Restylane, Juvéderm, Radiesse and Sculptra. These treatments are used for the correction or reversal of a variety of conditions such as acne, acne scars, skin discoloration, wrinkles, stretch marks, varicose veins, cellulite, and others. More information about treating enlarged pores can be found on Epione's website.