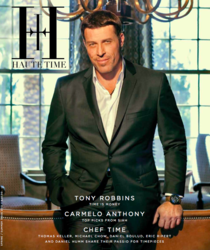 "The watch I wanted when I was a kid was a gold Rolex. When I got it, I felt I had really accomplished something."
Los Angeles, CA (PRWEB) April 22, 2013
The inaugural issue of Haute Time magazine (http://www.hautetime.com), a print and online publication covering luxury watches, will launch Monday, April 22nd with a distribution of 50,000 copies. In the rapidly evolving digital age, the Haute Living network of publications is "paving the way for digital integration of luxury print and online magazines," according to Co-Publisher Seth Semilof.
Using progressive features including an online flipbook and a heavy social media push, such as Co-founder Carmelo Anthony's "Watch of the Day" on Instagram with over 1 million followers. This issue will be the NBA star's first as a publisher, in the wake of his win of the league's scoring title. Anthony's column in the magazine will discuss timepiece trends, styles, and products. "Whether you're at the start of your journey or you're already a collector, Haute Time will get your heart racing," says Anthony.
In this first issue of Haute Time, renowned life and business strategist, Tony Robbins, discusses his humble beginnings, first luxury watch purchase, and a new financial book in the works in the cover story. "Getting Tony Robbins for the launch cover of Haute Time is a huge honor, as he has touched or impacted so many success stories. Plus, his love for watches is amazing, as he is a huge watch collector, and has an amazing collection of some of the finest pieces made by Audemars Piguet, Panerai, and Breguet," says Semilof.
Tony Robbins represents a true rags-to-riches story. "I grew up poor financially, although very loved. My frustration and my desire drove me to be really hungry." After accomplishing success in the real estate, literary, and motivational speaking world, he discovered his passion for watches. "The watch I wanted when I was a kid was a gold Rolex. When I got it, I felt I had really accomplished something." He has brought his advice to the masses with clients such as Wall Street financiers and even Hollywood stars like Academy Award nominee Hugh Jackman, whom he worked with during the filming of Les Misérables, "I had to help him find the same state, to bring the psychology and capacity he has onstage in front of the camera, and be able to trigger it at will." He is now working on a financial book in 2014, his first in 13 years that will feature the advice of 35 billionaires, along with expose the "ten biggest lies on Wall Street and give people the truths that can help free them."
Celebrity chefs Thomas Keller, Michael Chow, Daniel Boulud, Eric Ripert, and Daniel Humm share their passion for timepieces in the "ChefTime" article. From heat in the kitchen to heat as restaurateurs, all have fine collections of luxury watches that are unique, expensive, and specific to their needs. Co-Publisher Kamal Hotchandani states "It was really interesting to be able to sit down with top chefs, and find out their love and appreciation for watches. Daniel Boulud is a huge Panerai collector, while Eric Ripert loves Vacheron. This story was a lot of fun, to find out each chef's appreciate for fine watch making."
The launch issue features timepieces and advertising from brands such as: Audemars Piguet, Ulysse Nardin, Piaget, Jaeger LeCoultre, Hublot, Panerai, Girard-Perregaux, and Louis XIII. Distribution will also include NFL, NBA, and MLB locker rooms, private jets, and mailed to around 14,000 homes over $5 million in value—in addition to over 500 luxury watch boutiques worldwide. The magazine will be available on the home page of Haute Time and Haute Time Russia, along with being available to download via iTunes and Amazon.com.
About Haute Time: Haute Time is the premier go-to site for information on all luxury watch brands. This interactive website features exclusive content including video interviews with CEOs, and one-on-one guided tours through factories, showrooms and boutiques. Expert contributors are on the ground at preeminent exhibitions in Geneva and Basel to reveal and critique the newest news and offering from luxury timepiece manufacturers. The issue will be published bi-annually to 50,000 readers. The magazine's online counterparts and social media components are innovative and expand readership.
About the Haute Living Brand: Haute Living Magazine is a national luxury lifestyle magazine published in four markets—New York, Miami, Los Angeles, and San Francisco. Haute Living Magazine features the top entrepreneurs, businesspeople, and notables in each market. Haute Living Magazine also highlights the best in luxury consumer goods, culinary hot spots and events. Haute Living recently redesigned its website and re-launched its Haute Time and Haute 100 websites for state-of-the-art experiences.