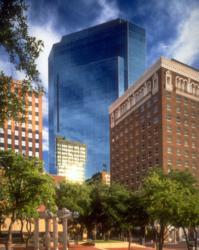 The rebranding of 777 Main along with building improvements is creating a buzz for 777 Main in harmony with the excitement of Fort Worth's Sundance Square.
Fort Worth, Texas (PRWEB) April 23, 2013
Crescent Real Estate Holdings LLC announced today that Legend Natural Gas Partners III, LP signed a lease expansion and Rising Roll Gourmet signed a new lease at 777 Main in downtown Fort Worth. Legend's lease expansion is 1,078 square feet taking the company's total square feet to 15,394 in 777 Main. Rising Roll Gourmet signed a lease for 1,162 square feet for a new deli.
John Zogg, managing director of leasing for Crescent, and Whit Kelly who represented 777 Main owner MS Crescent One SPV on both recent lease transactions have been busy in recent months with a number of new leases, renewals and expansions totaling 133,425 square feet. 777 Main is participating in the renaissance of downtown Fort Worth with its own resurgence. The iconic 777 Main Street Fort Worth office building currently is undergoing significant building improvements, including lobby renovations that feature updated, stream-lined lighting and furniture. Concourse and valet lobby renovations currently are underway with ground-floor lobby renovations expected to be complete soon. 777 Main is one of a number of buildings planning outdoor café space to take advantage of Fort Worth's downtown revival.
"The rebranding of 777 Main along with building improvements, as well as a refurbished outdoor focus on Grace Restaurant's sidewalk patio, is creating a buzz for 777 Main in harmony with the excitement of Fort Worth's Sundance Square," said Zogg. "777 Main Street is on the gateway to Sundance Square. It is fitting that we stimulate enthusiasm with renovations, new leases and lease expansions," Zogg said.
Speaking about the two most recent lease transactions, Kelly said Legend expanded its lease due to Legend's growth in the market. "Legend has been an excellent customer of Crescent since Legend arrived in this market in 2011. We are pleased to see their growth and success and happy to accommodate their expansion at 777 Main," said Kelly. Legend is an oil and gas operations, production, exploration and development company originally founded in 2001.
Rising Roll Gourmet also is new to the Fort Worth market. Their store in 777 Main is the first in Fort Worth for the company. "We are delighted that Rising Roll selected 777 Main for its first entry in this market," said Kelly. "Their Zagat excellent-rated deli concept is the perfect fit for a quick, high quality breakfast and lunch offering."
Rising Roll Gourmet began operations in Atlanta in 1996 and now has locations in five states. Rising Roll Gourmet offers lunch gourmet sandwiches, salads and soups, and breakfast dishes.
ABOUT 777 MAIN
777 Main is a 40-story, Class A office property located in the southeast quadrant of Fort Worth Central Business District (CBD). The 954,895 square-foot, green glass-paneled icon was developed in 1982 and is home to a prestigious customer base including Jacobs Engineering Group Inc.; FTS International Services, LLC; The Petroleum Club of Fort Worth; and many energy companies and law firms. 777 Main is also home to Crescent Real Estate's corporate headquarters.
ABOUT CRESCENT
Crescent Real Estate Holdings LLC, headquartered in Fort Worth, Texas, is a fully-integrated real estate company owned by Barclays Capital and Goff Capital. Through its subsidiaries, Crescent owns or manages a portfolio of 25 premier office buildings totaling over 9.2 million square feet located in select markets across the United States with major concentrations in Fort Worth, Dallas, Houston, Denver and Las Vegas. Crescent also holds investments in resort residential developments in locations such as Scottsdale, Vail Valley, and Lake Tahoe; a luxury hotel, The Ritz-Carlton, Dallas; and the wellness lifestyle leader, Canyon Ranch®. For more information, visit Crescent's Web site at http://www.crescent.com.
# # #