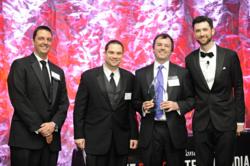 "I work with an incredible team of remarkable, hard-working, brilliant people, and I can't wait to see what we do next."
~Randy Julian, Founder & President, Indigo Biosystems
Indianapolis (PRWEB) April 22, 2013
TechPoint, Indiana's technology growth initiative, recognized Indigo Biosystems (Indigo), a provider of scientific software for analytical laboratories, as one of Indiana's high-tech success stories during its annual Mira Awards gala presented by BKD CPAs & Advisors at the JW Marriott in downtown Indianapolis on April 20. Now in its 14th year, the TechPoint Mira Awards celebrate the most innovative and successful technologies and technology companies, as well as entrepreneurs and educators.
Indigo took home TechPoint's award for "Innovation of the Year," which is given to an Indiana technology company that has created an innovative and novel proprietary technology. Indigo's ASCENT service—which automates chromatographic peak review and analysis for hospital labs, reference labs, pharmaceutical companies, government agencies, and other laboratories doing clinical research and chemical composition testing—was honored for demonstrating potential superiority and sustained viability in its market.
Randy Julian, president and founder of Indigo, accepted the Innovation of the Year award on behalf of his company, stating how honored he was to be part of and recognized by the growing entrepreneurial and technology community within Indiana. "I work with an incredible team of remarkable, hard-working, brilliant people," he said, "and I can't wait to see what we do next."
"We had the largest class of Mira Awards finalists ever this year. It's a sign of the increasing activity and growth in the tech and entrepreneurial communities," said TechPoint CEO Michael Langellier. The Mira Awards had a record 91 finalists this year chosen by an expert panel of 39 judges."
A complete list of the 2013 TechPoint Mira Awards winners is available at http://www.techpoint.org/mira.
About TechPoint
TechPoint is Indiana's statewide technology initiative focused on growing Indiana's tech sector by promoting the successes of technology companies and professionals; supporting the formation of capital, expansion and attraction of technology companies; and advocating appropriate public policy. For more information, please visit http://www.techpoint.org.
About Indigo Biosystems
Indigo Biosystems delivers patented automated data review and analysis solutions to analytical testing and research laboratories. The company's hosted applications and additional services support the automation of visual data inspection. Indigo is led by an expert team of scientists and software engineers and is committed to introducing and delivering innovative solutions to the laboratory market. For more information, visit http://www.indigobio.com.
For More Information
Melissa Stahley
(317) 493-2414
mstahley(at)indigobio(dot)com