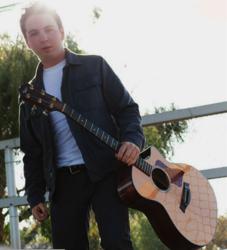 Los Angeles, CA (PRWEB) April 22, 2013
Orange County musician, Griffith Clawson, will be hosting a benefit concert to raise money and support the Orangewood Children's Foundation on Tuesday, April 23 at 6:00 PM.
The Orangewood Children's Foundation provides life-changing programs and one-on-one support for abused and neglected children and at-risk families to end the cycle of child abuse. Griffith will be donating 100% of the funds directly to the foundation with goals to support the college endeavors of the emancipated youth. "It's hard enough for me as I embark on the college track with total support from my parents and my school. I can't imagine trying to take that on with no help," says Griffith
Parking for the event is available either free or valet and guests can enjoy appetizers and entrees available for purchase. Please see below for more details:
WHO: 16-year old singer/songwriter, Griffith Clawson and the Orangewood Children's Foundation.
WHAT: Griffith Clawson, a local Orange County teen, will be performing to raise funds for foster youth. Griffith will donate 100% of all sales to 44 Women for Children, an auxiliary of Orangewood Children's Foundation.
Pre-sale tickets are $20 and are available for purchase at: http://www.orangewoodfoundation.org/eve-168/Griffith-Clawson-Benefit-Concert.asp.
WHEN: Tuesday, April 23, 2013, 6:00 PM
WHERE: Canaletto Ristorante Veneto at Fashion Island, 545 Newport Center Dr., Newport Beach, CA 92660
For more information about the Orangewood Children's Foundation Benefit Concert, please visit their website: http://www.orangewoodfoundation.org.
About Griffith Clawson
Griffith Clawson is a 16-year old native of Orange County, Calif. With a growing fan base, Griffith's music has spread from cities across the United States to as far away as Portugal and Zimbabwe. He plays gigs year round and is a favorite at Alta Coffee House in Newport Beach. Griffith is the youngest recognized Ambassador to the Orange County Foster Youth through The Orangewood Children's Foundation for his financial support via concerts, which he holds to raise money, and receives donations of goods. For more information or to hear of Griffith's music, please visit http://www.GriffithClawson.com