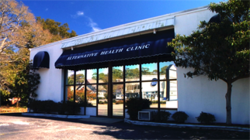 Megan Took one for the team when we filmed the acupunture sequence
Myrtle Beach, SC (PRWEB) April 23, 2013
In January of 2013, The CMMS Studio Film Crew was hired by the Natural Healing Center of Myrtle Beach with the goal to produce an informational film about their natural healing services. Dr. Jin Li Dong and Dr. Brian Brown, both practicing chiropractors of the center, had the idea of producing an informational video that would serve to further educate the public about the alternative healing techniques offered by their clinic.
During the course of the day, the CMMS Studio Crew filmed scenes that demonstrated alternative medicine techniques and equipment such as Hyperbaric Oxygen Therapy, Photon Genius Light Therapy, Computerized chiropractic equipment as well as better known treatments such as Acupuncture. The crew also filmed testimonials offered by patients which helped to round out the production.
This production proved to be quite an educational experience for at least two members of the production team who were unfamiliar with the scope of the available treatments. They got a firsthand view of how a person's diet can affect the wellbeing of a human being through both testimonials given and through the information provided through the production's script. Dr. Jin Li Dong offered to perform BioPhotonic Scanner tests on Second Unit Cameraman Keith Bardwell and Cinematographer Art Barrera. The BioPhotonic Scanner is a revolutionary Nobel Prize winning Raman Spectroscopy tool that is clinically proven to be a tremendous indicator of the body's complete antioxidant network. The test results were surprisingly well for Keith who didn't expect to get a good result and unsurprising to Art who also expected to test low.
Throughout the production day the production's art director, Megan Parker, volunteered to fill in for a patient that cancelled at the last minute for the acupuncture segment that was about to be filmed. The segment consisted of several types of treatments beginning with traditional acupuncture. "Megan really took one for the team" stated Cinematographer Art Barrera. "when Dr. Jin Li performed Battlefield Acupuncture and Acupuncture Injection Therapy on her, which involved a big needle, she didn't flinch" concluded Art.
The team was surprised as to how scientific the diagnostic procedures were as the day went on. The filming included shots of X-Ray, Moivision and Live blood cell analysis, which was fascinating. In Live-cell studies, Dr. Jin Li Dong took a single drop of blood then analyzed it using a powerful microscope and a video recording attachment. The doctor is looking at the condition of the blood cells for digestive function, pH imbalance, bacteria, yeast, crystals, toxins, and free radicals present in the blood. From just a drop of blood , doctors can find out what functional problems a person may have or make a decision on any changes of diet for better nutrition.
Diets proved to be an important part of the healing protocols used at the Natural Healing Center. The CMMS Film Crew learned about the diets Scientists Dr. Johanna Budwig & Dr. Peter D'Adamo have pioneered to help combat illnesses and promote general wellbeing through Genotype and Budwig Diets. These diets are known to help improve the body's immune system and help fight off disease.
The CMMS Studio Film Crew concluded the day's filming with shots of Dr. Jin Li Dong preparing some juice, which is part of the diet and detoxification program offered at the Natural Healing Center. Dr. Jin Li Dong, Dr. Brian and the CMMS Studio Film Crew all drank a glass of juice to the health of one another.
About CMMS Studio
Located in Loris, South Carolina, Custom Multi-Media Solutions, Inc. was founded and incorporated with the objective of providing cutting-edge multimedia services ranging from Photography and Video to Graphic Design at affordable rates to people everywhere. CMMS Studio offers a wide variety of photographic services from Commercial Modeling to General Portraiture. We believe that every customer is unique and has specific needs. We provide personalized attention to all of our clients to help meet their personal budget. Our professionals include a video production team that films weddings, dance recitals and family events as well as producing high quality TV commercial spots, documentaries and industrial/training videos. CMMS Studio offers Graphic Design solutions for small and large business with three designers that can design anything from business logos to signs, brochures, billboards and web sites. No job is too large or too small.