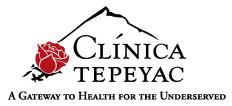 Denver, CO (PRWEB) April 23, 2013
The University of Colorado at Denver (UC Denver) announced this week that Clínica Tepeyac has been selected as the recipient of the Rosa Parks Diversity Award. Clínica Tepeyac is one of Colorado's most respected safety net clinics and is a model for providing health education, prevention, and primary medical services to underserved patients in metro Denver.
Since 2006, the UC Denver Rosa Parks Diversity Committee has been recognizing individuals and organizations that have contributed to the university's commitment to diversity and inclusion. The committee also recognizes people or community organizations that are committed to social justice or provide a service to disenfranchised populations. The award takes its name from the first lady of the Civil Rights movement Rosa Parks.
"The legacy of Rosa Parks is based on taking action and supporting disenfranchised or underserved populations," said UC Denver's Director of Black Student Services Omar Montgomery. "Health care is very expensive in the United States, so many low-income families shy away from having annual check-ups, cancer screenings, and other medical procedures that could decrease the mortality rate in lower socioeconomic communities. Clínica Tepeyeac is "A Gateway to Health for the Underserved" and is a true representation of the legacy of Rosa Parks by providing a much needed service to the community."
Clínica Tepeyac and Rosa Park Diversity Award recipients were honored at UC Denver's luncheon on April 19 at the Auraria Campus.