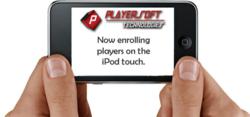 Larry's unque level of knowledge, combined with his key relationships, has built a track record of superior performance.
San Diego, CA (PRWEB) April 23, 2013
Playersoft Technologies is proud to have Larry McCoy leading its sales and business development efforts and this is one more reason the Playersoft line of products continue to make an impact in the casino and hospitality software arena. McCoy brings extensive experience and capabilities to Playersoft Technologies from a diverse range of industries.
Prior to joining Playersoft, McCoy moved to Las Vegas in 1985 with Digital Equipment Corporation and has held executive level sales and marketing positions with leading equipment manufacturers in the gaming industry, including; National Sales & Marketing Manager for Sigma Games, Inc., Director of Sales at CDS / Aristocrat, Vice President of Sales for Shuffle Master and Vice President of Systems Sales for International Gaming Technology. In each position, McCoy led sales teams for both games and systems products that were successful in increasing sales volume by penetrating and establishing new markets including the U.S., Canada, Mexico, Latin America and South America.
"I have had the good fortune to work under some very experienced and polished leaders in the gaming industry and I'm enjoying the opportunity to share that knowledge in a highly energized environment at Playersoft," says Larry.
"Larry's unique level of knowledge, combined with his key relationships, has built a long track record of superior performance," says Tony de Leon, Playersoft President. "The manner in which he has performed as a sales leader seamlessly aligns with our culture at Playersoft."
Playersoft has experienced tremendous growth in the nearly 18 months McCoy has been part of the team and his contribution has been noted by his team members. "His innovative mindset has helped lead us through this steady expansion of customers, relationships and sales opportunities," says de Leon.
Having the right talent has helped Playersoft in the development of its innovative products, evident in two recent awards for its Mobile Enrollment platform by the gaming press. In October, Gaming and Leisure honored Playersoft with its prestigious "Platinum Award" followed by Casino Journal voting Mobile Enrollment as one of its "Top 20 Most Innovative Gaming Technology Products" in March.
Playersoft Technologies focuses on creating systems to streamline all aspects of the fast moving casino property. "We come from a background of casino operations," said VP of Technology, Hunter Hunstock. "We are committed to creating highly integrated, reliable, focused on making gaming operations more profitable while at the same time enhancing guest service.
Playersoft's suite of products can be seen at the Southern Gaming Summit in Biloxi, MS, May 8-9 at the Mississippi Coast Coliseum and Convention Center, Booth 210.