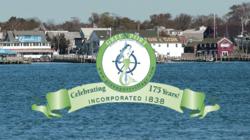 You don't have to go far to get away.
Greenport, New York (PRWEB) April 29, 2013
Events At A Glance:
April 27 / Second Annual Waiters' Race. The North Fork's nimblest waiters wearing their staff uniform, a tray, and a glass half full race on foot about three blocks along Main Street ending at Front Street near the harbor. The waiter who not spilling a drop, or breaking the glass is the winner. Sponsored by The Market Restaurant in Greenport, and GUS Grown-Up Soda. Prize money is awarded to the nimblest waiter of them all, and also benefits Eastern Long Island Hospital. Great fun for a good cause.
May 25, 26 / "Fire Fighter" Water Gun Salute. In celebration of Memorial Day "Fire Fighter" will display a stream of water into the air as a salute from her eight powerful water monitors. The event will take place in the Greenport Marina in Mitchell Park. This fire fighting boat served New York City as part of the NYC Fire Department until retired in 2010. She fought many well known fires including the SS Normandie in 1942, and was active in pumping water from the Hudson River into Ground Zero on 9/11. Now as Fireboat Fire Fighter Museum, a non-profit volunteer group, she has found a home in Greenport as a floating museum. After restoration she will be available for dock side viewing and sailing tours.
May 25 / Greenport Farmers' Market. Memorial Day weekend will open the market's season. Established in 2011 the market's mission is to bring fresh produce directly from local farms to residents of the community as well as to visitors. The market provides education on: nutrition, farming, bee keeping. There are wine tastings from the local vineyards, food tastings from the restaurants, and much more. This year the market is introducing a booth which will give local artists who work in the fine arts and crafts a venue for exhibition. Besides viewing items for purchase there will be art and craft demonstrations. The market provides sustenance on every level, food for body and soul. Something for everyone. Every Saturday from Memorial Day weekend through Columbus Day, October 14, 9am –1pm the market will be open bringing together the local community, and visitors in a festive outdoor event.
May 25 / Gather In The Square. A new and exciting culinary experience has been launched. Award winning Chef Keith Luce debuts this Memorial Day weekend in historic Stirling Square. Kick off the summer in style with an outdoor clambake and local fare feast. Sample the savory offerings from 1 - 10pm. The street of shops in The Square will be home to a restaurant, and assorted artisanal food shops with everything for dining and serving.
Visit Luce's Landing to get a taste of what The Square is all about.
May 27 / Memorial Day Parade. This Southold town tradition is hosted this year by the Village of Greenport. The ceremony begins 10am at Veterans Memorial Park, and marches south through the historic and business districts along Main and Front Streets. School, and fire department marching bands, pipers, magnificent state of the art fire fighting equipment along with vintage fire trucks from the village and visiting fire fighter guests make this a fun event. The parade terminates at the 3rd Street Fire House. The event is sponsored by the Greenport American Legion Post 185. For additional information: Pete Reiter at 631-477-9729.
May 31, Noon-6pm/ June 1, 9am-6pm/ June 2, 9am-5pm / Greenport Village In-Water Boat Show.
This will be the 3rd Annual In-Water Boat Show in the Mitchell Park Marina. Vendors will be answering questions and exhibiting their boats for close inspection in the water, and on land under a big top on the marina's main lawn on Front Street in the heart of the historic business district. For information email: marina@thevillageofgreenport.org / or view on FaceBook: Mitchell Park Marina.
June 8 / WPPB Art Show in Greenport. The first annual WPPB Art Show in Greenport supporting Peconic Public Broadcasting will be on view in Mitchell Park 11am-5pm. Local artists and galleries will be exhibiting and selling their work in this outdoor venue. Walk through the artist spaces near the marina and view works of varied mediums while enjoying the seaport panorama. WPPB 88.3-FM will be broadcasting live at the art show in Mitchell Park & Marina. Program hosts will be chatting it up with artists, sponsors, and guests. After taking in the outdoor show visitors are invited to walk through the village along Front and Main Streets, and visit village galleries, local shops, restaurants, and experience all that makes Greenport unique.
For information contact Alex Ferrone at: 631-4734-8545.
June 8 / Flights Of Fancy. The Sirens' Song Gallery will be presenting paintings, limited edition fine art prints, book arts,decorative arts with a fanciful narrative about aquaculture and agriculture. From 5-7pm there will be a wine tasting from a local vineyard. A portion of all sales will be donated to two community restoration projects, including Greenport Legion Hall Post 185 Skating Rink.
July 6 / Fireworks. The annual pyrotechnic display at Crescent Beach, Shelter Island will take place after dark. Rain date July 7. Fireworks also visable from Mitchell Park & Marina in Greenport. Bring beach chairs, blankets, picnic baskets, and enjoy the show.
August 9, 10, 11 / Shakespeare In The Park. This year the Northeast Stage will present Henry V, directed by Colin Palmer. Another year of bringing free theater to the community with performances in Mitchell Park. Bring your blanket, chairs, and enjoy the show.
September 20, 21 / Greenport Classic Yacht Regatta. Sail Greenport was created in 1997 and is host to the Regatta. The mission of Sail Greenport is to reestablish Greenport as a sailing center attracting sailors and their boats from New England, and the Mid Atlantic. On Friday evening a welcoming party will greet all participating yachts at Preston's Dock at the foot of South Main Street to start the weekend event. Saturday morning the yachts will gather in Gardiner's Bay and the race is on. An awards presentation and party will be held Saturday evening on the observation deck of the Mitchell Park Marina on Front Street.
September 20, 21, 22 / Maritime Festival. The East End Seaport Museum, and the Village of Greenport will host and celebrate Greenport's maritime culture and history with the 24th Annual Maritime Festival Walk on the piers, sail away on harbor tours, visit the maritime museum, and browse the wonderful shops, galleries, restaurants in this unique historic village. On this festive outdoor stroll encounter salty pirates along with other entertainment pleasure, enticing foods & delicacies, beverages, and also discover all the treasures that are the Village of Greenport.
October 13 / Second Annual Greenport Harbor Oyster Festival. Noon – 6pm. Local oyster farmers and suppliers will be serving the freshest, tastiest bivalves on the East End. Tour Greenport Harbor Brewery, lift a mug, and sample some of the newest beer releases from their brewery. Fun,food, and music in our historic maritime village.
December 7 & 8 / Second Annual Greenport Shellabration. A celebration of local seafood paired with North Fork wines, prepared and served by Greenport's leading chefs. The North Fork's natural bounty comes together in a delicious culinary walk to benefit SPAT ( Southold Project in Aquaculture Training ) and Greenport Rotary.