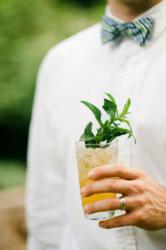 "We have a few tickets remaining and we always love to see new faces," says Starks. "Once you come, you won't be able to imagine celebrating the first Saturday in May any other way!"
Louisville, KY (PRWEB) April 23, 2013
On May 4th at 9:30 A.M., The Historic Homes Foundation and Garden and Gun Magazine join forces to host the traditional with a twist 35th Annual Derby Breakfast, complete with traditional regional fare, bluegrass, fashion, and of course, a touch of bourbon.
"Our guests love celebrating Derby Day with us," says Hollis Starks, Derby Breakfast committee member for seven years, "not only because they know they will create priceless memories with their friends and associates—they are proud to be supporting the preservation of some of our historic treasures. It's a perfect way to begin the day before heading to Churchill Downs or to the next party!"
This year, breakfast guests will enjoy regional cuisine, coffee and cocktails while they explore the beautiful Farmington Historic Plantation house and gardens. Bluegrass sounds of "The Porch Possums" will have attendees tapping their feet and a casual game of croquet will be played on the lawn. An Original Makers Club Boutique silent auction will feature exclusive packages and once-in-a-lifetime experiences to benefit the Historic Homes Foundation.
"We have a few tickets remaining and we always love to see new faces," says Starks. "Once you come, you won't be able to imagine celebrating the first Saturday in May any other way!"
The 35th Annual Derby Breakfast Hosted by The Historic Homes Foundation and Garden & Gun Magazine
Saturday May 4, 2013
9:30 a.m. - noon
Farmington Historic Plantation
3033 Bardstown Road, Louisville, Kentucky 40206
Individual tickets $150, Tables of 8 /$1,200. For tickets call (502) 899-5079 or visit historichomes.org
For more information and photos of last year's breakfast, like Historic Homes Foundation on Facebook.
ABOUT THE 35TH ANNUAL DERBY BREAKFAST HOSTED BY THE HISTORIC HOMES FOUNDATION AND GARDEN & GUN MAGAZINE:
The Derby Breakfast is the Historic Homes Foundation's annual fundraiser to benefit Farmington, Thomas Edison House and Whitehall. The profit from the event is used to pay for insurance, accounting services, and other professional services necessary to maintain the properties.
EVENT SPONSORS: Bittners, Frank Otte Nursery and Garden Center, Monroe Shine CPA, Original Makers Club, Republic National Distributing Company
EVENT FRIENDS: Churchill Downs, Heine Brothers Coffee, Konica Minolta, Longwood Antique Woods, Nanz & Kraft Florists, Publishers Printing Company, Republic Bank, Sarah Burton Graphic Design
EVENT PLANNING COMMITTEE: Committee Chairwoman: Meredith Lavin.
Committee: Monica Edwards, Chris Hartley, Meg Lavin, Elizabeth Likins, Sara Paradis, Billy Paynter, Carolyn Price, Butch Shaw, Hollis Starks, Dean Wilkinson, Shawn Willoughby, Guthrie Zaring
Amanda Terry, Liaison to Bittners
ABOUT THE HISTORIC HOMES FOUNDATION:
The Historic Homes Foundation, Inc. is a not for profit (501C3) who's mission is to present the history of the Louisville Metropolitan area to the general public through a collection of historically significant properties. We preserve, promote, steward, manage, operate and acquire properties, and interpret their role in our community's history. To visit one of the historic properties supported by the Historic Homes or for information on making a donation, visit historichomes.org.