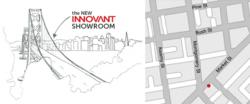 San Francisco, CA (PRWEB) April 25, 2013
Innovant will host an Open House on May 15 and 16 to celebrate the opening of its new San Francisco showroom. This showroom features the latest editions of Innovant's award-winning, open plan furniture system, FORm_office, along with its newest conference and private office collections. The San Francisco showroom joins the ranks of Innovant's New York City Headquarters and Midwestern showroom in Chicago, reflecting the company's commitment to the Bay Area marketplace.
Innovant has built an impressive and prestigious client list nationwide and, more recently, in the Bay Area. The new showroom space will enable the company to better communicate the unique Innovant experience that has rewarded it with some of the largest and highest profile, open plan office contracts in the country.
An oyster bar and cocktails will be served on Wednesday, May 15 from 4-8 pm, followed by a breakfast event from 8-11 am on Thursday, May 16. Clients and industry friends are invited to the showroom at 607 Market Street, 4th floor, and should contact Innovant's Bay Area Regional Manager, George Schoenwald, for more information.
To RSVP, please email info(at)innovant(dot)com or call 415.515.8970.
Contact: 607 Market Street, 4th Floor (at Montgomery Street), San Francisco, CA 94105
http://www.innovant.com
212.929.4883
Innovant is a renowned industry leader creating intelligent, adaptable furniture for the modern workplace. With a flagship showroom located in New York, Innovant maintains a worldwide network of offices and showrooms spanning North America, Europe and Asia. Innovant's substantial contributions to office and trading floor environments not only stem from its superior products, but also from the close collaboration Innovant supplies to clients and their architects and designers.