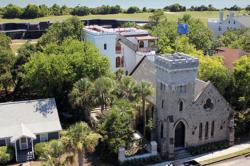 Mt Pleasant, SC (PRWEB) April 24, 2013
Typically house hunters, would have to pick castle or beach, not both. But there's a unique property on Sullivan's Island, a coastal town near Charleston, S.C., that has a beachfront castle.
The Cassina Group, a Charleston, SC real estate team, has listed Mugdock Castle, originally a 19th century church, for $3,895,000.
Mugdock Castle's original structure – known as Winter Hall – dates back to the late 19th century when it was an Episcopal Church chapel. Located near Fort Moultrie, the chapel was in the way of the fort's growth following the war with Spain so the Army acquired the property for a mere $6,000 in 1905. Until 1947, the structure was used as a Post Chapel for Fort Moultrie. The chapel was deconsecrated in 1972 and converted to a private home.
Charleston resident and developer Vince Graham purchased the property in 2002 with the intent of moving the building to his I'On development in Mount Pleasant and restoring it as an Episcopal Church for the community. The Sullivan's Island Town Council prohibited the move, and Graham left the building at its original site.
So Graham restored the building and named it Mugdock Castle for a Graham stronghold built in the 14th century north of Glasgow, Scotland.
In 2009, he added a Romanesque addition that, while more than a century newer, flows seamlessly with the older, more Gothic portion of the castle. Summer Hall's rooftop terrace provides a breath-taking view of Charleston and her most iconic structures, including lighthouses, the Arthur Ravenel Jr. Bridge and the steeple-dotted skyline of downtown Charleston.
Photos and a video of the property, along with a more detailed history, are available at http://www.MugdockonSullivans.com.
Property Highlights:

7 bedrooms and 6.5 baths
4,950 square feet of interior space
1,600 square feet of covered outdoor space
1,180 square feet of rooftop terrace
About The Cassina Group
The Cassina Group is a Charleston, South Carolina, real estate firm specializing in buying and selling homes throughout the Lowcountry of South Carolina. For more information, visit http://www.TheCassinaGroup.com or call 843-628-0008.