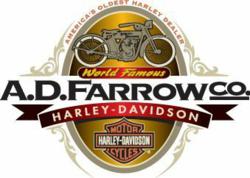 Columbus, Ohio (PRWEB) April 24, 2013
On Saturday, May 4th the Governor will be proclaiming May as Motorcycle Awareness Month to hundreds of bikers at the Ohio State House. American Bikers Aimed Toward Education (ABATE) and additional riders will convene at the A.D. Farrow Co. shop at NorthStar in order to participate in an escorted parade that will take riders to the State Capitol. A.D. Farrow Company's location at NorthStar is more than equipped to host the hundreds of cyclists on their 18-acre campus.
America's Oldest Harley Dealer is working in conjunction with ABATE of Ohio, Inc. Region 9 Franklin County to host the beginning of the parade as well as the after party. ABATE prefers to have the after party at A.D. Farrow Company's historic downtown location. The Company will be providing live entertainment with the Simba Jordan Band as well as hosting food, beverage, and additional vendors.
This is only the first of many activities the A.D. Farrow Co. Harley-Davidson Family of Dealerships has planned in celebration of Motorcycle Awareness Month. The following weekend on May 11th, the NorthStar campus will once again be hosting an event. Leave A Mark Church, QFM 96, and America's Oldest will be conducting the 5th Annual Biker Blessing. Riders from across the state will come to NorthStar in order to participate in the affair due to the sites preferred central Ohio location. Vendors will be joining in as well as the band, God's Dirt.
The excitement does not stop there. On May 18th the long awaited Thunder Tunnel will take place at the 2013 Komen Race for the Cure. As breast cancer survivors and supporters run the three-mile trek in downtown Columbus they will begin the race motivated by the revving engines of motorcycles. At 6:30 in the morning on May 18th, 2013 hundreds of motorcycles will gather in the parking lot of A.D. Farrow Co. Downtown. Riders will be traveling a preferred escorted route to America's Oldest Harley Dealer's Sponsorship location on the Susan G Komen Race for the Cure course. Located at High and Chestnut, the infamous Thunder Tunnel will be formed. Hundreds of motorcycles will line the street and cheer on race participants with revving engines, blowing horns, and high fives.
Ending Motorcycle Awareness Month, Centennial-Park Harley-Davidson in Pataskala, Ohio will host Open House Demo Days. The Harley-Davidson Motor Company will be pulling in with a variety of bikes for customers to test ride. The two-day Open House will allow central Ohio riders to test-ride his or her preferred bike. The culmination of events at all three A.D. Farrow Co. Family of Dealership locations will keep riders entertained for the entire month of May.