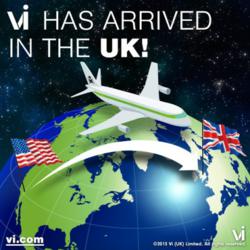 Blake Mallen , Co-Founder and Chief Marketing Officer, stated, "ViSalus helped over 1.5 million people make their health a priority in the last year alone…"
(PRWEB) April 23, 2013
The UK is the 3rd heaviest country in the world costing the National Health System Billions of dollars per year. The prevalence of obesity in the UK is higher than most other parts of north-west Europe.(1) Vi UK (United Kingdom branch of Visalus Sciences in the USA) is about to change that. Vi has responded by launching the Body By Vi 90 Day Challenge in the UK. The Body By Vi Challenge is presently the number one weight loss and fitness challenge in North America. The Challenge grew 170% in 2012 because it truly works.
Every second 7 people drink a Vi Shake. Over 100 million Vi Shakes have been served with millions and millions of pounds lost. Every 20 seconds somebody joins the Body By Vi Challenge. Over 150,000 new people are joining every month. That's over 5,000 per day. Visalus Sciences has helped over 2 million people lose weight and reach their health goals in North America and awarded millions in prizes to its winners. Now Vi UK has begun shipping their proven, cost effective Vi-Shape Shakes with a goal of taking weight off the 3rd heaviest country in the world.(2) UK citizens can finally join the movement and culture of the Body by Vi Challenge and change lives.
When a person joins The Challenge and begins their 90 day journey, they start with knowing that their results are 100% guaranteed. Vi offers this because they know their platform works. Body By Vi Challenge is not just a shake based nutrition product created to the highest nutraceutical grade quality. The success of The Challenge for millions of people lies in the engagement, the fun, the prizes, the motivation and the community support. The Challenge is not a diet. It is an enjoyable, exciting lifestyle shift that is cost effective and weight loss effective. Participants in the UK will also have the chance to win $1000 for simply losing 10 pounds when they get started on their Vi UK Challenge.
Blake Mallen , Co-Founder and Chief Marketing Officer, stated, "ViSalus helped over 1.5 million people make their health a priority in the last year alone…" Mr. Mallen noted that more than 1,500 people have participated in Project 10™, a ViSalus initiative that launched in January 2013 awards a total of $10,000 to 10 people who lose 10 pounds every week through participation in the Body by Vi 90-Challenge. To date, over 15,000 pounds have been lost by Project 10 participants, and a total of $80,000 has been awarded to weekly winners so far in 2012". (3)
Vi-Shape Shakes are lactose free, gluten free, diabetic friendly and certified kosher by the Orthodox Union. The Launch of Vi UK is a huge and exciting step for the eight year old company based in Michigan, USA. By choosing the UK as their first European launch, Vi has communicated that they are true to their mission of commitment to taking weight off the world.
"Visalus and the Body By Vi Challenge is a movement. The shakes taste amazing and the community support, fitness tools and weight loss plans make it simple to lose weight. Even people who have tried every other option to drop weight are experiencing an answer to their years of pain and frustration. The Body By Vi Challenge is a true blessing to everyone it reaches." – Dr. Matthew Laporte, Physical Therapist.
People in the UK are realizing that with the Body By Vi Challenge there is nothing to lose but the weight.
Get your Vi UK questions regarding The Challenge, the Products and the Opportunity, answered personally by posting them at: http://www.JoinBodyByViUK.co.uk
About Vi UK
Founded in 2005 with headquarters in Los Angeles, CA and Troy, MI, Visalus Sciences is the company behind the Body by Vi™ 90-Day Challenge, a personal health and lifestyle transformation platform.Vi UK is the new European branch of the company. ViSalus champions personal victories and entrepreneurship through a social marketing model, premium products, and supportive global community. ViSalus is majority-owned by Blyth, Inc. (NYSE :BTH)
(1) Jebb S. Obesity: causes and consequences. Women's Health Medicine. 2004;1:38–41.
(2) http://www.nasdaq.com/article/visalus-recognized-for-highest-2012-percent-sales-increase-in-direct-selling-news-global-top-100-companies-20130404-01060#.UW73Qsqzk4w
(3) http://www.prnewswire.com/news-releases/visalus-surpasses-1-billion-in-sales-199962741.html