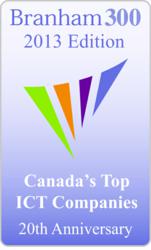 We are honoured to have made such a prestigious list in less than four years since our founding. (Dev Basu, CEO of Powered by Search)
Toronto, Ontario (PRWEB) April 23, 2013
Powered by Search was chosen as one of the top Information and Communication Technology (ICT) companies in Canada as part of the 2013 edition of Branham300.
For 20 years now, the Branham300 has highlighted the top Canadian and Multinational ICT companies operating in our country, as ranked by revenues. It illustrates the depth and breadth of innovative technologies developed in Canada, and includes notable companies such as BlackBerry, Rogers Communications, and TELUS.
"While Canada's ICT sector advanced only slightly in 2012, it did achieve a milestone in setting a new revenue record of $83B for the Top 250. When you factor in the performance of BlackBerry, Canada's top technology firm, and its decline of 7% in FY2012, the industry overall actually performed much better, with an overall growth rate of 3.58%," said Wayne Gudbranson, CEO of Branham Group and head of the Branham300 ranking committee.
Powered by Search appears in the list's 289th position, as part of the Next 50 Canadian ICT Companies category. Dev Basu, the agency's Chief Executive Officer, was thrilled by the news.
"We are honoured to have made such a prestigious list in less than four years since our founding. We've developed a great team of search engine marketing experts and are delivering solid returns on our clients' digital marketing spend," he said.
Powered by Search has been experiencing significant growth lately, having recently started to provide search engine marketing services to companies such as FedEx USA, Whirlpool, and Belairdirect. The Branham300 recognition follows on the heels of the agency's 2012 ranking in PROFIT HOT 50, among Canada's fastest growing young companies.
About Powered by Search
Where online influence meets sales growth.
A boutique, full-service digital marketing agency in Toronto, Powered by Search has a client base that ranges from telecommunications and travel brands to a growing retail and software portfolio. Founded in 2009 by CEO Dev Basu, Powered by Search is a PROFIT HOT 50-ranked agency that delivers search engine optimization, pay per click advertising, local search, social media marketing, and online reputation management services.
About the Branham300
For 20 years now, the Branham300 has highlighted the top Canadian and Multinational ICT companies operating in Canada, as ranked by revenues. It illustrates the depth and breadth of innovative technologies developed in Canada and is widely considered to be a leading source of intelligence on Canada's ICT industry. The Branham300 list consists of the following major categories:

Top 250 Canadian ICT Companies
The Next 50 Canadian ICT Companies
Top 25 ICT Multinational Companies operating in Canada
Top 25 Up and Comer ICT Companies (category ranked on innovation/not revenue)
For more information or to set up an interview with Dev Basu, contact Powered by Search:
Alex Rascanu
Marketing Manager
+1 (866) 611-5535 ext. 306
alex(at)poweredbysearch(dot)com