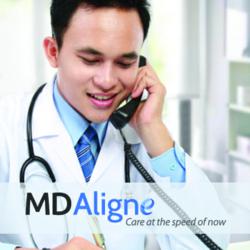 As we move into the next generation of Healthcare coverage in the U.S., our vision is to align medical resources and maximizing healthcare access, convenience and affordability. - John R. Palumbo, President and CEO of MD Aligne
Conshohocken, PA (PRWEB) April 23, 2013
MD Aligne, a leader in the telehealth industry, is proud to announce the selection of John R. Palumbo as President and CEO, effective April 1, 2013.
John R. Palumbo's career spans several key areas of the health industry. Starting with Health Information Networks, Palumbo has been integral in starting and growing healthcare and technology businesses from the start of his career. He is a pioneer in the electronic health records movement, medication management software, and population and productivity solutions for All Scripts, Siemens Medical Solutions, and I-Trax. Prior to his position with MD Aligne, Palumbo was Senior Vice President, for AmerisourceBergen Corporation – one of the world's largest providers of pharmaceutical distribution services, related technology, and consulting services.
Regarding his new position with MD Aligne, Palumbo says, "I am very thankful to have the opportunity to work with such a talented team of healthcare executives. I am equally honored that the Board has shown their faith in me to lead our efforts in becoming the gold standard for delivering web and mobile consumer health services. As we move into the next generation of Healthcare coverage in the U.S., our vision is to align medical resources and maximizing healthcare access, convenience and affordability. We commit to lead the way in delivering value through our consumer health and care coordination internet portals."
MD Aligne is poised to make a mark on the healthcare industry. According to the MD Aligne Executive Board, "Our goal at MD Aligne is to provide high quality care for anyone, anywhere, at any time. John R. Palumbo brings unparalleled insight, vision, and leadership to our organization. He has the enthusiasm and successful experience to grow MD Aligne to its fullest potential."
John R. Palumbo received his degree from Widener University, and has been working in the healthcare and technology field since 1986. Currently, Palumbo is a Senior Fellow at Jefferson School of Population Health. He is also a member of American College of Healthcare Executives (ACHE), where he serves on the Ethics Committee. In addition, Palumbo is a Senior Advisor to Bryant Park Capital in the Healthcare Services sector.
About MD Aligne
MD Aligne is a new and better way to get the professional healthcare you need when you need it. MD Aligne offers resources for healthcare solutions via the telephone or web providing safe, convenient, and affordable access to remote caregivers utilizing our digital platform. As a web-based consumer health company, we deliver multi-device solutions for consumers to conduct health e-commerce for doctor consultations, answer medical questions and online diagnosis, prescription and testing, and other healthcare supplies and therapies so our customers can manage their health, in their way, on their schedule.
According to a global survey, consumers are growing more comfortable with virtual doctor visits, with 70% of U.S. patients open to the idea and some studies are even showing better outcomes from telehealth than in person. For those health issues that do not require a face-to-face visit, our services are efficient and easy. Our digital and telephone doctor consultations give patients timely access to quality medical advice and the convenience of conversing with medical professionals 24/7, from home or work, reducing the total cost of the traditional medical office visit experience. For more information, visit mdaligne.com or call 1-888-738-5574.
Contact:
Taylar Cooney
Corporate Administrator
Tel: 484.784.4560
mediarelations(at)mdaligne(dot)com