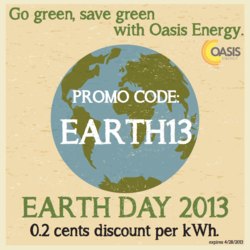 Pittsburgh, PA (PRWEB) April 22, 2013
Today on Oasis Energy's Twitter and Facebook accounts they announce that in honor of Earth Day, Oasis Energy will be offering a discount of 0.2 cents per kWh for any new account enrolled from 4/22/2013 through 4/28/2013. The discount will be in effect for the entire length of a customer's contract. To take advantage of this offer, new customers must use promo code "Earth13" when enrolling their electricity account on Oasis Energy's website, http://www.OasisEnergy.com.
This discount is significant because it lowers Oasis Energy's already low rates. In some markets such as Pittsburgh and the New York area, Oasis Energy is already offering the lowest priced 100% renewable energy product available.
For a household that uses an average of 1000 kWh per month the savings works out to about $50 annually.
This discount is available in all of Oasis Energy's markets including Maryland, Pennsylvania, New York and Illinois. The coupon code works for all of Oasis Energy's electricity plans, including their environmentally friendly, 100% renewable electricity plans.
Oasis Energy is committed to giving back to the local communities they serve. Participating in community improvement projects, charity efforts, environmental awareness, and energy efficiency campaigns.
About Oasis Energy:
Oasis Energy is a leading supplier of electricity and natural gas to residential and business customers in New York, Pennsylvania, Maryland and Illinois. Offering competitive pricing on fixed and variable rate energy products. Oasis Energy aims to be a low-cost/high-value provider bringing energy cost savings to customers in every market they serve.
For more information on Oasis Energy's electricity and natural gas service visit: https://www.oasisenergy.com