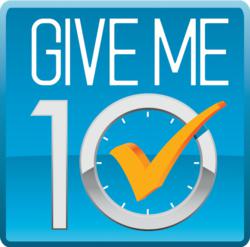 May is Moms' month -- Try the Give Me 10 May Challenge: take 10 minutes of "me time" every day. Free enrollment and prizes!
Los Angeles, CA (PRWEB) April 30, 2013
GiveMe10.info gives mothers the support and tools they need to take on their personal goals. With free enrollment and their own personal accounts, mothers enter and track their goals and work plans (see attachment). The answer to a mother's hectic schedule, the site offers doable ways to find personal time amidst the craziness of the day.
Give Me 10 offers monthly challenges and prizes – "read a book in 10 minutes a day", "organize photos in 10 minutes a day", and the May challenge: "take 10 minutes of me-time a day". Members who enroll in the challenge are entered in a drawing to win a Give Me 10 logo countdown timer (to time all their Give Me 10 goals!), and are featured on the home page.
The site offers a variety of support including a library of completed goals and work plans for inspiration and ideas, a time management tips blog, easy-to-use worksheets and how-to videos.
Give Me 10 gives members structure and support for all those personal goals that fall off the to-do list for the more pressing matters of the day. It takes just seconds to log in and chart progress, revise work plans and set new goals (see attachment). Each time a member logs 10 minutes toward her goal, she sees a tally of how much time she's devoted to her goal. She sees that while she didn't sit down for a whole weekend to work on a goal, she is chipping away at it little by little and that adds up to real progress. The site creates a supportive environment and applauds success with online acknowledgements for goals achieved and encouraging email reminders to spend 10 minutes on the member's current goals (see attachments).
Give Me 10 members love how it turns what can feel overwhelming, scary or unpleasant into something doable:
"I enjoyed [the "Read a Book in 10 Minutes a Day"] challenge so much and it works! I made it part of my daily schedule and even set up a reminder on my calendar! I believe I will be able to read regularly from now on." Telma
"Breaking monumental tasks down into 10 minute chunks is powerful and very productive." Linda
Give Me 10 is a complimentary tool for people who manage to do for others all day but don't squeeze in much time for themselves. Give Me 10 gives members a way to raise their own personal goals to a level of importance comparable to all their other to-do's. Give Me 10 creates a community of like-minded, goal-oriented people who are committed to reaching their own goals, 10 minutes at a time. The community shares goals, work plans, and advice with one another. More info at GiveMe10.info or by contacting Laura Brady Saade at Laura(at)GiveMe10(dot)info.
Give Me 10 has been featured in O Magazine, The Huffington Post, Family Circle and KFWB in Los Angeles.
Laura Brady Saade started Give Me 10 when she realized that 10 minutes is about all the spare time a mom has in her day. As a mother of three, she felt the perpetual conflict of having personal hopes and dreams that she wanted to pursue, but not having the time. Once she started carving out just 10 minutes at a time for her goals, she saw an immediate improvement in her mood and momentum. Give Me 10 is based on business practices she learned and developed while at Wharton earning an MBA and then working as a management consultant. She shares Give Me 10 through one-on-one consulting, workshops and speaking engagements. GiveMe10.info is an extension of this work, giving members of the website camaraderie and support as they work toward their personal goals.