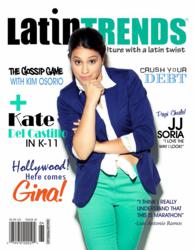 New York, NY (PRWEB) April 26, 2013
It's all about change! This month, readers will discoverer the positive transformations that can take place in their financial future by changing the way they manage their money today. Recent and notable changes in the Latin American political and religious landscape are also captured in this month's issue. There is a collective shift in the perception of beauty and talent, so this month LatinTRENDS bringS you international super star, Marre and the enchanting plus-size model, Denise Bidot! Plus the Gossip Game with Kim Osorio and Kate Del Castillo in K-11.
Named the "next big thing" and one of the "top 35 Latinos under 35," by The Hollywood Reporter, Gina Rodriguez's LatinTRENDS cover personality has been rising steadily since her breakout performance as the titular character in Filly Brown during the Sundance Film Festival in 2012 add to this a recent Imagen award winner for "Best Actress in a Feature Film: Filly Brown"...
Now everyone thinks she's rich and famous. A friend approached her "She was like, 'So, I have this project — I really want to be a yoga instructor, and all I need is $10,000 to set up this studio,'" Rodriguez recalled "I was like, 'Baby love, I ain't got no money for you. I can take your class and pay $20 for my sun salutation, but I just don't have it.'"
Gina aka Filly Brown will soon become Filly Gold. She is a young actress, who happens to be Latina (at a great time to be Latina in Hollywood) she's talented, can act, sing, rap and has an engaging personality…pretty soon she will be more then able to finance that yoga studio and then some. Some are calling her the next Michelle Rodriguez…she is the next Gina Rodriguez and that will suffice.
For more information, please contact Maria Luna at (212) 852-6164 or via email at mluna(at)latintrends.com