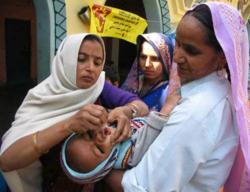 "No one thought it was possible to do what we've done!" - Program official
Moradabad, India (PRWEB) April 23, 2013
The world's first Polio Chowk was unveiled in Moradabad, India in February, a visual reminder of the progress in the fight against polio in Moradabad and the world. Moradabad District outside Delhi has been called the epicenter of polio globally. PCI (Project Concern International) has been working as part of the Core Group Polio Project (CGPP) since 2002 in Moradabad, immunizing children, engaging communities, advocating with key leaders, raising awareness, improving surveillance and, most importantly, working steadily to overcome resistance to participation on the part of Muslim families, leaders and communities. PCI's perseverance and multifaceted approach to social mobilization, under the technical umbrella of the CGPP and in collaboration with UNICEF, WHO, Rotary and other stakeholders, has resulted in tremendous achievements.
One of the most visible tributes to this work occurred in February when Polio Chowk was launched. "Chowk" means "square" in the local language, and local officials unveiled a monument on this donated square to commemorate the successful fight against polio. The monument is comprised of a large mother/child sculpture surrounded by the slogan "2 drops of life" sitting on a base describing the history of the polio effort in India, an acknowledgement of partners, and other key messages. Dozens of media covered the event and the District Magistrate cut the ribbon and expressed pride, joy and renewed commitment to the crowd of several international delegations. CGPP teams from Angola, South Sudan and Ethiopia, along with senior officials from the US, all participated in the event, and all felt a strong sense of being part of this historical achievement. The local government's intense sense of ownership was clearly evident.
The delegation also visited a nearby village to observe the immunization efforts. One PCI Block Mobilization Coordinator (BMC) immunized 357 children under 5 years old from 457 households. These coordinators revisit the households regularly to ensure that children aren't missed due to migration, illness, or resistance. The visiting delegations commended this multi-faceted active engagement strategy and support of many different government bodies, women's groups, community leaders, and parents. In addition, the idea of enlisting older children as peer outreach workers was considered innovative and important for building leadership in young people and a strong value of volunteerism for the future. Most impressive was the fact that PCI had managed to turn resisters into agents of change, with Muslim leaders now encouraging families to immunize, combining calls to polio booths with calls to prayer from Mosques. As one official said "No one thought it was possible to do what we've done!"
The immunization program in India is one of the largest in the world in terms of quantity of vaccine used, number of beneficiaries, geographical spread and diversity of areas covered. Survey results of CGPP activity in these areas show significant progress toward a sustainable, polio free Utar Pradesh, and in fact no new cases of polio have been detected in a 12- month period. PCI's work will continue to ensure no new polio cases up to 2014 and beyond in order to achieve the official designation of "eradication."
This media release is made possible by the generous support of the American people through the United States Agency for International Development (USAID). The contents are the responsibility of PCI and do not necessarily reflect the views of USAID or the United States Government.
Celebrating its 50th anniversary in 2011, PCI (Project Concern International) is an international health, development and humanitarian assistance organization, operating in 16 countries worldwide. PCI is dedicated to saving lives and building healthy communities around the globe, benefitting over 6.7 million people annually in Asia, Africa and the Americas. Funded by federal grants and private support, PCI's current annual budget is nearly $50 million and the organization has 600 employees worldwide. PCI's headquarters are located in San Diego, CA and also has an office in Washington, DC and a Seattle, WA representative.