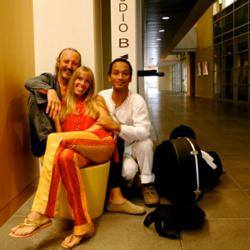 In these turbulent times, Deva and Miten's chilled out Sanskrit chants offer something of a musical balm to calm the nerves and nourish the tortured spirit.
Boulder, CO (PRWEB) April 23, 2013
Best-selling chant artists Deva Premal & Miten are leading a 21-Day Mantra Meditation Journey beginning Tuesday, April 23rd through the Mentors Channel, a website offering coaching in personal growth that has presented similar programs from Oprah Winfrey and Deepak Chopra. The series launches in conjunction with the release of Deva and Miten's new album, A Deeper Light (April 23rd, White Swan Records).
Anyone who has ever taken a yoga class or experimented with any kind of alternative stress-reduction therapy, from detox to dynamic meditation, pilates to acupuncture, is likely to have heard the music of Deva Premal & Miten. Partners in life and music for over twenty years, their unique renditions of ancient mantras are played in yoga studios and healing rooms everywhere, and their music has touched the hearts of millions of listeners.
At the heart of their music that has earned Deva and Miten such widespread admiration are mantras: energetic sound formulas, created thousands of years ago by the rishis (wise men) of ancient India, who understood the power of sound as a pathway to enlightenment. Over the course of this three-week program, Deva & Miten will share a new mantra each day, explaining its meaning, chanting it with the participant and meditating on the mantra's essential energetic quality.
A program of 21 days provides the possibility for real and lasting change to occur, in body, mind and spirit. Among the program's key benefits:
--Chanting charges and revitalizes the body on a physical, cellular level, promoting deeper breathing and the movement of prana (life energy) through the body.
--Chanting allows for enhanced expression with simple clarity and power.
--Chanting stills the mind, resulting in a deep state of inner relaxation and peace.
The 21-Day Mantra Meditation Journey begins Tuesday, April 23rd and will be available free of charge for the first three weeks, and then available for purchase as both a download and an app after the initial three-week period of free access ends.
This unique program is timed to coincide with the release of Deva Premal & Miten's latest album, A Deeper Light, by Boulder, CO-based White Swan Records. On the new record, Deva and Miten intertwine their trademark Sanskrit mantras with sensual, dub-inspired grooves. Deva's distinctive vibrato focuses the hypnotic vibe, heightening the inherent power of the sacred chants she intones. This refreshing new work brings a vibrant, sensual energy to the world's oldest devotional music – and presents a fresh direction for the enduringly popular artists.
The producers – Miten, along with Vancouver-based Joby Baker (Toni Childs, Cowboy Junkies, Alex Cuba) and Dutch keyboardist Maneesh de Moor -- went for a very warm, organic sound, requiring the artists to take a new approach. Rather than weeks of solo sessions and bouncing tracks back and forth via the internet, all the musicians – Nepalese bansuri flute maestro Manose, de Moor on keyboards and Richard Moody on violin and viola -- spent two weeks together in Baker's intimate studio, working as a group in real time on every track to get a sound and a vibe that was much more live than studied. Almost all the instruments used were acoustic, with live drums, bass, piano, guitar, and violins. Miten comments, "Everything 'moved air' – and that's what makes the music breathe."
In these turbulent times, Deva and Miten's chilled out Sanskrit chants offer something of a musical balm to calm the nerves and nourish the tortured spirit. This authentic and honest expression of love and commitment to a spiritual path is what sets them apart from their musical contemporaries.
In Deva Premal and Miten's view, "We see ourselves more as flame carriers of a 5,000 year old tradition than emotion-based musicians. The music we make is born out of a committed spiritual practice. We meditate -- we investigate -- and our music is a result of that experience. It's more a case of life and death than entertainment!"
A Deeper Light is being released by White Swan Records on the first day of the 21-Day Mantra Meditation Journey: this Tuesday, April 23rd.