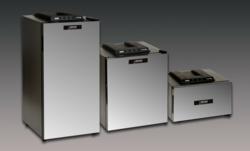 Peltier controlled incubating refrigerators will not only heat and cool, but they will maintain precise ambient conditions.
Minneapolis, MN (PRWEB) April 23, 2013
Since most incubators only heat, incubating at ambient temperatures of 20 to 25 C has always been challenging. Researchers have been known to use costly methods to maintain precise ambient conditions. There is another option, however. Peltier-controlled incubating refrigerators will not only heat and cool, but they will maintain precise ambient conditions. These table-top devices are much less expensive than traditional chilling incubators. They range in price from just under $1,000 up to several thousand. Perhaps the most popular and least expensive of the Peltier incubators is the Revolutionary Science Incufridge. It works well for many applications, but its conservative capacity of 25 liters has its limitations. Recently, Revolutionary Science announced that they have expanded their Incufridge line, to include larger and more sophisticated models.
Recently, the Institute of Food at ETH Zurich in Switzerland published a finding that shows reactive oxygen species are responsible for beta-glucan degradation. In the study they used a Revolutionary Science Incufridge to incubate all samples, set at 20 degrees C, a difficult temperature to maintain with most incubators. Most incubators are only equipped with a heating mechanism. For this reason the lowest temperature most incubators can obtain is 5 degrees C over ambient.
Peter W. Krug of the United States Department of Agriculture was researching the efficacy of chemical disinfectants on nonporous surfaces. The disinfectants had to be incubated at precisely 22 degrees Celsius. For this reason, Dr. Krug used the Revolutionary Science Incufridge because there were few if any other options.
But Peltier-based refrigerated incubators like the Incufridge are not just used for ambient conditions. They can be set at any temperature from 5 degrees C to 65 degrees C. Because the Peltier incubators are solid state, they are completely vibration-free unlike their compressor-based incubator cousins. "The older refrigerated incubator designs are built just like a refrigerator with a heater inside," states Isaac Erickson of Revolutionary Science. "This is problematic because the refrigerators contain heavy compressors that vibrate and shake when regulating the temperature. Vibration can destroy samples."
The new line of Revolutionary Science Incufridges vary in size from 25 liters to 77 liters in capacity. More sophisticated models are equipped with opaque or insulated glass doors and data loggers. The most significant feature that all Incufridge models share is the solid state Peltier-based, vibration-free design.
"We are proud of this design and hope that other incubator manufacturers will follow suit," states Isaac Erickson of Revolutionary Science. "It is slightly more expensive to develop them this way, but we are doing our best to keep our prices lower than the competition." The new line of Incufridges are currently in production and are available for purchase from Revolutionary Science, VWR or Thermo Fisher Scientific.
About Revolutionary Science
In 1999, Revolutionary Science was founded after the birth of the company's first microcentrifuge. Years later, Revolutionary Science designs and manufactures incubators, centrifuges, autoclaves, automated cell and colony counters and water baths.
Registered with the FDA and ISO, Revolutionary Science is a Minnesota company dedicated to the manufacturing of precision life science and sterilization equipment.