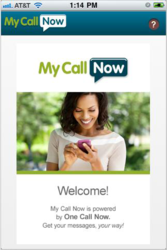 Organize, Calendarize, and Share your One Call Now messages with My Call Now.
Dayton, OH (PRWEB) April 23, 2013
One Call Now, America's largest notification provider, has launched a free mobile app, My Call Now, for the millions of people who receive messages from them every day. Available for most iOS and Android devices, it allows the people who receive messages to forward them and add calendar entries directly from voice, email and text messages. Push notifications for incoming messages alert the receiver to waiting messages.
Businesses, schools, churches and organizations use One Call Now to quickly send group notifications to thousands of people in minutes. Messages are delivered by phone, text, email and social media, making the service convenient for the people receiving them, too.
With this new mobile app, One Call Now has taken another step to make messaging convenient for those on the other end of the line. "We're especially pleased with this service enhancement, because it delivers significant value to the people receiving the messages," commented Leib Lurie, CEO at One Call Now.
"Messages delivered through One Call Now usually contain important, detailed information," continued Lurie. "But, today's busy lives are filled with incoming communications. My Call Now automatically stores all our messages—calls, texts and emails, in one place for quick and easy reference and forwarding to calendars. And, it gives senders the option to allow the people receiving the messages to update their own contact information within the app."
It's fitting that the launch of My Call Now coincides with Earth Day since One Call Now greatly reduces the need for paper announcements, reminders, flyers and mailings. Their clients may measure their savings in time and dollars, but One Call Now is also measuring it in trees.
My Call Now is a free app and can be downloaded at onecallnow.com/mobile.
About One Call Now
Founded in 2002, One Call Now is America's largest message notification provider, with 20 percent of American households depending on the company for messages that protect, inform, and engage in their businesses, schools, churches, and organizations. The company was named to Inc. Magazine's Honor Roll, having made their list of fastest growing privately held companies in America for five consecutive years. For more information, please visit http://www.onecallnow.com/mobile.