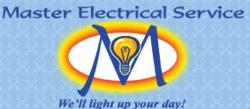 Ogden, UT (PRWEB) April 23, 2013
The very latest news from Master Electrical Service is that it has widened its geographical reach in order to ensure that an even larger number of customers will be able to benefit from the products and services that it provides.
The company is located in Ogden, Utah, and is well known throughout the greater Salt Lake City area, now reaching even wider among all cities from Cache Valley, Tremonton to the Point of the Mountain.
Master Electrical Service continues to provide electrical, lighting, generators, home safety checks, whole home surge protection, trouble shooting, arc-fault breakers, and home protection plans, among its full range of services.
The company's clear priority – beyond the quality of product and technical service that it consistently provides – is in customer service and care. Locally owned and operated, the team members build relationships with the residential and commercial customers in the area, which helps to explain why they always continue to return when these services are required.
The electricians who work with Master Electrical Service are courteous, clean, highly skilled, and drug free. The company boasts a fleet of trucks that are kept consistently stocked with thousands of high quality parts, making it possible to promptly complete installation and repair jobs without delays. The team members at the company frequently refer to the vehicles as a Warehouse on Wheels.
Now that area serviced by the Master Electrical Service team has been broadened, more customers can take advantage of these friendly and expert services. They welcome calls to answer questions or schedule electrical service appointments
For more information about the Master Electrical Service area and the types of services that are provided, as well as the locations in which they are offered, visit the official company website at: http://www.masterelectrical.com. To phone for information or to schedule an appointment, use one of the following numbers: in Weber County, call 801-782-8042; in Davis County, call 801-775-8042; in Box Elder County, call 435-723-9473; and in Cache Valley, call 435-755-9473.