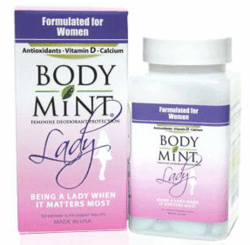 Los Angeles, CA (PRWEB) April 22, 2013
Body Mint announces their new product Body Mint Lady. Body Mint Lady is an innovative product in coated pill form that targets feminine odors all over the body. The product is made from healthy, green ingredients and most significantly it contains no harsh chemicals. Body Mint Lady targets breath, underarm, perspiration and foot odors, which is what makes Body Mint different than any other odor fighting product on the market.
Body Mint took three years to develop and nine different formulas were tested before the final product was ready to market. Unlike Body Mint and Body Mint Sport, Lady contains Vitamin D and Calcium and it's formulated to work specifically with a woman's chemistry. It really is a wonderful solution to feminine hygiene protection. Body Mint Lady has been designed to offer odor protection throughout a single day and night.
Body Mint Lady works by targeting various feminine odors inside the body and eliminating them before they can be released to the outside. The focus on fighting feminine odors inside the body is what enables Body Mint Lady to be a deodorant, a mouth wash and a foot powder all rolled into one small pill. In fact when the company first started marketing Body Mint they compared it to those three different products and many were skeptical. How could the same product be a deodorant and a mouth wash, let alone also a foot powder? Soon, though, the skeptics were convinced.
Body Mint's all natural composition is incredibly appealing to most consumers. There are no harsh chemicals like Aluminum Zirconium and parabens found in many deodorants, and in fact the product is packed with helpful antioxidants. Those who want to learn more about Body Mint Lady can visit the website at http://bodymint.com/ or call 1.866.274.6468 to speak with a company representative. Body Mint also has a presence on Facebook, Twitter and YouTube and when visitors go to the Body Mint website they are able to chat live with an expert on the product.
ABOUT BODY MINT-USA LLC
Body Mint-USA, LLC is a subsidiary of Hawaiian Organics, LLC. The company was founded in 1997 with the mission to research and develop unique and healthy products that enhance the quality of life. Body Mint is Hawaiian Organic's first and most successful product. Body Mint is a natural, ingestible body and breath deodorizing/freshening tablet that is basically a deodorant in a pill. To learn more about deodorant hygiene products made by Body Mint visit the website http://bodymint.com/
###