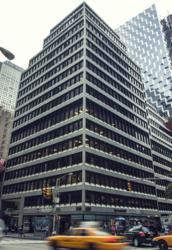 New York, New York (PRWEB) April 23, 2013
Corporate Suites, one of New York City's largest office space, virtual office and conference room rental providers, has seen increased demand at its 22 Cortlandt St. location through the first quarter of 2013, marked by an increasing presence of media and technology firms in the Downtown neighborhood as well as continued recovery by businesses in the financial sector.
Across the board, office space for rent in New York City has seen a steady, if sluggish, recovery through the first quarter of 2013, with rents and vacancy rates in the United States' largest business market holding steady and slowly beginning to grow as the economic recovery continues and becomes more permanent.
Specific submarkets of Manhattan, however, have seen a stronger increase in demand than others. Midtown South, including the neighborhoods of Chelsea and the Meatpacking District, had the lowest vacancy rates of any area in Manhattan, and the area south of Midtown, including office space in the Financial District. In Midtown South, the declining vacancy and higher asking rent was attributed to the presence of firms like Google, who now lease 180,000 square feet of office space located at Chelsea market.
"This is a trend we've been seeing for some time, with more and more technology firms leasing office space in Manhattan – not only in Midtown South, but we now have many firms specializing in software and application development, computer engineering and internet services at our locations in Midtown" said Hayim Grant, President of Corporate Suites. "New York now only trails the Silicon Valley in the number of technology firms, and we expect the incredible growth here to continue."
"We've also seen an increased demand for temporary office space in New York City by many financial professionals, who use our flexible office space and conference rooms for the first quarter of the year during tax filing season. That, along with the continued gains in the stock market, have really increased the number of tenants at our 22 Cortlandt St. location, and we expect that growth to continue as well with One World Trade Center opening later this year." continued Grant.
"Many of the firms who do come to us during their seasonal peak demand, like tax professionals, utilize our Manhattan virtual office service to maintain a professional appearance at a prestigious address. We offer them flexible office space time and conference room rentals so that they can meet with clients throughout the year on an as-needed basis, and use a full-time, furnished professional office during their busiest periods. Our flexibility and variety of service options allows them to lower their costs and get the space they need, when they need it."
The growth at 22 Cortlandt St. and throughout Manhattan's office space market comes at the end of a very exciting beginning of 2013 for Corporate Suites, which recently expanded their virtual office and New York City conference room rental services with a new location at 1180 Avenue of the Americas as well as renovation at one of their other six New York City business center locations.
About Corporate Suites: Corporate Suites is one of the largest serviced office space providers in New York City. With over a decade of experience managing hundreds of executive office suites for thousands of satisfied clients, we will provide and professionally manage the perfect office solution for your business. Find more detailed information at http://www.CorporateSuites.com.