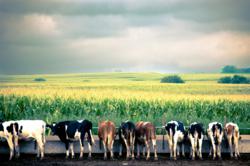 "We take all of our commitments very seriously," said Dan Rice, general manager of Prairieland Dairy. "And none more so than our commitment to sustainability."
St. Paul, MN (PRWEB) April 23, 2013
The Innovation Center for U.S. Dairy recently announced the winners of its second annual U.S. Dairy Sustainability Awards, which recognize dairy farms for practices that advance the industry's commitment to healthy products, healthy communities and a healthy planet. Midwest Dairy Association, the farmer-funded checkoff organization for 10 Midwest states, is pleased to announce that two farms within its territory were honored, including Prairieland Dairy of Firth, Neb., as a national winner, and McCarty Family Farms, LLC of Rexford, Kan., as an honorable mention.
The awards program is part of the U.S. Dairy Sustainability Commitment, an industry-wide effort to measure and improve economic, environmental and social sustainability of the dairy industry. The winners were selected by an independent panel of judges, which included experts from academic institutions, government, dairy science organizations, nongovernmental organizations, media and environmental and dairy industry leaders, and are based on the delivery of results to advance economic, environmental and social sustainability. The panel also assessed the potential for adoption by other farms as well as demonstrated learning, innovation and improvement.
Prairieland Dairy is a creative partnership between four Nebraska dairy farm families that milks 1,600 cows, farms 600 acres and is home to a processing plant, Prairieland Foods, and a composting site, Prairieland Gold. From the efficiently built barns that bring great cow comfort—to automatic cooling, waste management and pest control systems—each has a role in the farm's sustainability solutions. Prairieland Dairy also taps into the natural power of wind, gravity and the geothermal properties of well water to reduce the use of energy, water and equipment.
"We take all of our commitments very seriously," said Dan Rice, general manager of Prairieland Dairy. "And none more so than our commitment to sustainability."
Honorable mention, McCarty Family Farms, has a milking herd of about 7,200 cows that produce almost 60,000 gallons of milk every day in northwestern Kansas. They have a unique partnership with Dannon, and the milk from the McCarty's three dairies goes directly to their processing plant. First, the unpasteurized milk moves through an evaporator to remove extra water. Every drop of water is reused throughout the dairy for purposes such as cleaning, providing drinking water for the cows and irrigating crops. They reclaim 39,000 gallons of water daily from condensing milk, which means 75 percent fewer trucks are required to ship milk on their farm.
"Sustainability for us means respecting our roles and responsibilities as stewards of the land, caretakers of our animals, members of the community, parents and husbands – but also as members of the dairy community," said Ken McCarty.
"The strength of the award winners' stories illustrates why consumers can be confident about choosing their favorite dairy foods," said Barbara O'Brien, president of the Innovation Center for U.S. Dairy. "These and thousands of other actions taken every day – both large and small – contribute to the industry's overall commitment to a healthy future for the next generation."
To learn more about the industry's commitment to sustainability, visit USDairy.com. To get to know more about Midwest dairy farmers and their sustainability practices, visit DairyMakesSense.com.
Midwest Dairy Association® is a non-profit organization funded by dairy farmers to build demand for dairy products through integrated marketing, nutrition education and research. Midwest Dairy is funded by checkoff dollars from dairy farmers in a 10-state region, including Minnesota, North Dakota, South Dakota, Nebraska, Iowa, Illinois, Missouri, Kansas, Arkansas and eastern Oklahoma. For more information, visit http://www.midwestdairy.com. Follow us on Twitter and find us on Facebook at Midwest Dairy.