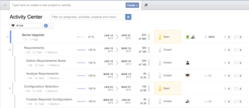 Easy Projects has been a culture change for us.
Toronto, ON (PRWEB) April 23, 2013
Easy Projects announced today that it has released a major update for its popular project management software. This update is aimed at making the product easier not just for project managers, but also for team members with little or no project management experience.
Easy Projects Version 9 completely redesigns its interface by replacing three modules with a single page to make project and task creation faster and more intuitive. It features natural language input, which accepts text like "Fred, create presentation draft by Friday" and turns that into a task assigned to Fred due this Friday. Version 9 also introduces Easy Projects Mobile, allowing people to access their assignments and projects on-the-go from any smartphone or tablet device.
"We have been using Easy Projects now for almost three years across the whole organization, and the heaviest users are the Project Management Office, and the Creative, Development, and Account Management Teams", said Minaz Noormohamed, Managing Director of Wired Messenger Inc. "We're very excited about the latest release of Easy Projects. We estimate that it's going to save us at least 75 hours per month because now it's so much quicker to create project plans."
"This is the kind of reaction we were hoping to hear", said Vadim Katcherovski, founder and CEO of Easy Projects. "Our main goal is to ensure that our clients are actually saving time by using Easy Projects. We do not believe in constantly adding dozens of "bells and whistles" that no one will ever use. We prefer to keep religiously improving the core functionality and usability of the product, even if it requires redesigning some modules from the ground up."
The latest update for Easy Projects is especially effective for companies that manage multiple projects, as it helps coordinate work of different teams and resources.
"Easy Projects has been a culture change for us. It has allowed us to become more efficient and consistent in our projects, cutting down reporting times", noted Jeremy Wyland, IT Project office manager at Sanford Health. "We now track all of our information technology projects with Easy Projects (over 200 at any given time) and it has become a critical part of our success."
Easy Projects is a project management tool that focuses on ease of use and adoption for its clients. This web-based tool combines project management and online collaboration to present small and large businesses alike with an all-in-one solution for staying organized and making sure that the company resources are used efficiently. Easy Projects is offered both as a cloud-based Saas, and as a downloadable, on-premise option. Both versions of the product can be accessed immediately at http://www.easyprojects.net with a free trial, followed by affordable subscription options.