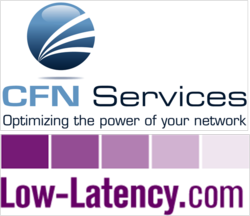 Herndon, VA (PRWEB) April 23, 2013
CFN Services, a leading provider of managed automated trading enablement services and A-Team Group's Low-Latency.com will host an informational webinar titled, Market Data / Market Access Platforms: Get What You Need, while Reducing Cost and Complexity on Wednesday, May 22 at 10:00 a.m. EDT / 3:00 p.m. London / 4:00 p.m. CET.
Low-Latency.com's Editor and Publisher Pete Harris and CFN Services' CEO Mark Casey will discuss the state of managing market data infrastructure today and new strategies that enable firms to continue to innovate as well as maintain low latency and high performance - all while reducing costs and complexity through a managed market data/market access platform approach. Taking a deep dive on how to effectively and efficiently obtain market data and market access from leading exchanges, attendees will:

Gain insight on the opportunities, complexity and challenges surrounding market data today
Discuss different approaches in which companies are taking to manage their market data infrastructure today
Learn how a managed, market data/market access platform approach can significantly reduce costs, increase agility, decrease data infrastructure complexity and lower TCO
Explore ways to leverage a market data/market access platform through use cases
WHO SHOULD ATTEND:

IT technologists, strategists and their business counterparts from the buy-side, sell-side and trading groups within financial institutions
CTOs, CIOs, VPs, Directors and others responsible for market data and trading infrastructure
To register for this webinar, click here.
About Low-Latency.com
Low-Latency.com is the community portal offering vital news, expert analysis, in-depth research and thought leadership focused on the role played by low-latency and related technologies in today's high performance electronic trading markets.
About CFN Services in the Global Financial Markets
CFN Services is a leading provider of automated trading enablement services that improve trading performance for some of the world's most sophisticated financial markets participants. CFN developed the Alpha Platform™, a high-performance, global cloud for ultra-low- latency, market data delivery and trade execution across key liquidity venues and major asset classes worldwide. Buy-side, sell-side and trading application providers leverage CFN's global, low-latency networks and proximity-hosted infrastructure to seamlessly integrate proprietary and best-of-breed trading applications. For more information about CFN's infrastructure services and managed trading solutions, please visit: http://www.cfnservices.com/alphaplatform.
About CFN Services
CFN Services provides high-performance network and application delivery solutions for real-time, mission-critical applications. Leveraging FiberSource®, CFN's global network optimization platform, the company deploys and manages low-latency networks and private cloud solutions to cost-effectively improve application performance in distributed IT environments. CFN's global cloud platform connects more than 70 leading data centers across North and South America, Europe and Asia. For more information, please visit: http://www.cfnservices.com.