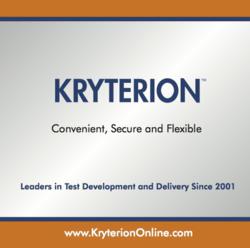 "The cross-collaboration with institutional partnerships and our in-house engineering team has led to the development of innovative products." - Andrew Caldwell
PHOENIX (PRWEB) April 23, 2013
Kryterion Incorporated will present Improving Academic Integrity with Online Proctoring and Authentication at the United States Distance Learning Association National Conference Monday April 29, 2013 in St. Louis, Mo.
The presentation will provide USDLA attendees with information to help distance education programs choose appropriate authentication solutions to manage exam cheating threats and maintain academic integrity and compliancy.
Options to verify a test taker authentication will be discussed in detail during the 50 minute presentation. The discussion will also touch on accreditation compliancy standards and federal legislation.
"Our relationship with the constituents of USDLA provides invaluable feedback in developing cutting-edge technical solutions," says Kryterion's Director of Distance Education and Engineering Andrew Caldwell. "The cross-collaboration with institutional partnerships and our in-house engineering team has led to the development of innovative products."
Kryterion was the first to bring online proctoring to the global market and was awarded the USDLA 21st Century Distance Learning Award and continues to develop cutting-edge technologies for test development and delivery.
ABOUT KRYTERION
Kryterion is a full-service test development providing world-class secure testing solutions. Kryterion serves the association, technology and distance education markets. Our solutions include: online proctoring, authentication, exam management, security, real-time test delivery and development, psychometric services and professional services.
Follow Kryterion, Inc on Twitter @kryterion
Find Kryterion, Inc. on Facebook at https://facebook.com/kryterion