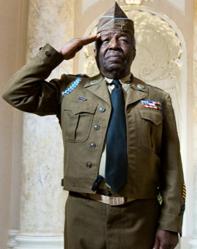 No veterans, no democracy. No democracy, no America.
Los Angeles, CA (PRWEB) April 24, 2013
Actor/writer James McEachin, questions the fairness of the producers of both the National Memorial Day Concert and PBS.  "Do they have some sort of bias?," he asks. "I've been on over a hundred television shows, and I've been trying to do a simple six-minute tribute on the National  Memorial Day Concert for too many years. Again this year I'm told by my friend Gary Sinise, co-host of the event, that I've been shutout again. I simply don't get it and I'm calling on friends, fans and right-thinking Americans to make their voices heard at Capital Concerts in Washington, DC.  The program is about love of country; about service and sacrifice.  Well, I've served and I've sacrificed.  In fact, I'm still walking around with a bullet lodged between the ribs, courtesy of the North Korean government. I was awarded a Silver Star, the Purple Heart, and a CIB badge.  Check out Reveille, a film short with over three million hits on the Internet; check out the award-winning Old Glory or some of my other works -- to include my award-winning novel, Farewell to the Mockingbirds. I wrote a one-man play called Above the Call; Beyond the Duty that's been seen from Kennedy Center to Kuwait. Portions of that play worked as a fundraiser for the USS Green Bay, the launching of the USS Michael Murphy, and has been seen at Medal of Honor functions, and presented for members of Congress. Most touching of all, though" continues the actor/author, "Not long ago, I had the extreme honor of appearing at a funeral for Pfc. Roosevelt Clark, a soldier, whose remains were returned to Bakersfield, California after being listed as MIA in Korea for over sixty-two years. I did Voices, the same tribute I have been seeking to do at the Memorial Day Concert, and as I have done at other venues, invariably resulting in standing ovations.  The opening line of Voices is: "'On days of remembrances past, I have borne in mind that last full measure of devotion…" Steven Mayer, the Bakersfield Californian staff reporter who covered  Clark's memorial services wrote '…And there were your words: a prayer, a life lesson, a love letter and an elegy, all wrapped up inside your spoken-word paean to freedom and love and sacrifice.'"
Friends and fans of the Old Soldier (James McEachin) are making phone calls, writing letters, sending emails to Capital Concerts and PBS because they are convinced his six-minute performance will do everything Capital Concerts sets out to do with this annual concert. McEachin sums it up in eight words: "No veterans, no democracy. No democracy, no America."
Email: Capital Concerts info(at)capitalconcerts(dot)org Phone: 202.554.4620 Website: http://www.capitalconcerts.org Address: 499 South Capitol Street, Washington, DC, 20003