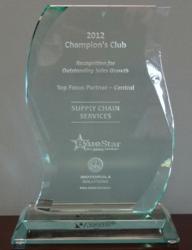 Oakdale, MN (PRWEB) April 26, 2013
Supply Chain Services, a leading supplier of barcoding and data capture solutions for the distribution and warehousing markets was recognized by BlueStar, its product distribution partner, and Motorola Solutoins, a leader in barcoding and data collection solutions, by being given the Rockout 2012 VIP Hall of Fame award. Supply Chain Solutions was selected for achieving the highest percentage of growth in 2H 2012 over 2H 2011 for the central region.
The award symbolizes the continued and sustained growth of Supply Chain Service's business. It demonstrates a recognition of the great service and products from BlueStar and Motorola Solutions.
It also is an indicator of commitment to Bluestar's AIDC product distribution and the industry leading barcoding, mobility and data collection equipment from Motorola Solutions.
Most importantly the award is a reflection of the company's three-year compound annual growth rate of 24%. This growth comes as a result of continued strategic investments in resources and internal process improvement. According to Chip Emery, Supply Chain Services CEO "we are honored to receive this award because it reinforces our company goal. Namely, to help customer operate better."
Supply Chain Services is a full service provider of barcode systems, data collection, and enterprise software solutions. The company specializes in designing and implementing rugged mobile computer, barcode scanner, barcode printer, and wireless network infrastructures to support supply chain processes within warehousing, manufacturing, and distribution organizations. Supply Chain Services is located in Oakdale, Minnesota and has over 2000 customers across North America. For more information, visit http://www.supplychainservices.com.